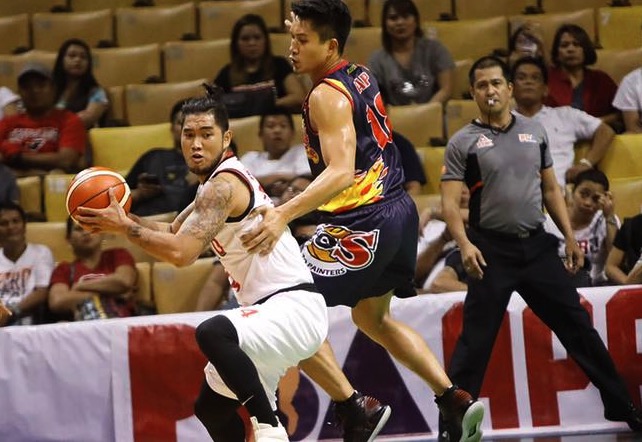 Glenn Khobuntin of Kia Picanto defends the leather against James Yap of the Rain or Shine Elasto Painters, Saturday at the Cuneta Astrodome. | PBA Images
Kia shocks Rain or Shine to snap 16-game losing streak
MANILA, Philippines — Kia finally entered the win column after scoring an upset over Rain or Shine, 98-94, in Saturday's first PBA clash at the Cuneta Astrodome in Pasay.

Rashawn McCarthy and Roider Cabrera each had 14 points to lead the Picanto. They figured in a second-half assault leading to Picanto's wresting of the lead.

And from that point on, Kia, which suffered 16 straight losses since last season, never looked back.

Mark Yee and Glenn Khobuntin chimed in 13 and 11 points, respectively, to help keep the Elasto Painters at bay.

Rain or Shine had a chance to close the gap and even pull the rug on their foes, but Chris Tiu was unable to make a free throw and missed a look from beyond the arc in the next sequence.

Khobuntin then converted a breakaway layup off a jump ball in the final eight seconds of the game.

"Finally nasa press room ako hindi nasa corridor," shared Kia mentor Ricky Dandan. "I'm relieved more than tired. I'm more relieved than anything else."

"We finally broke that [skid] and this will go a long way in our rebuilding of our ballclub," said the mentor who took over Chris Gavina a game into the Philippine Cup.

Kia is indeed far from whatever marker of improvement the shoot for as they remain on the bottom of the standings at 1-4.

Rain or Shine, on the other hand, dropped to 2-3, joining Blackwater in the bottom half of the all-Filipino conference race.

The scores:

KIA 98 - McCarthy 14, Cabrera 14, Yee 13, Khobuntin 11, Camson 10, Galanza 8, Celda 8, Ababou 6, Tubid 5, Sara 5, Caperal 4.

RAIN OR SHINE 94 - Nambatac 12, Yap 11, Tiu 10, Ponferada 10, Ahanmisi 9, Norwood 8, Belga 8, Borboran 7, Maiquez 6, Almazan 6, Daquioag 4, King 2, Cruz 1, Matias 0, Trollano 0.

Quarters: 13-18, 40-44, 72-68, 98-94.