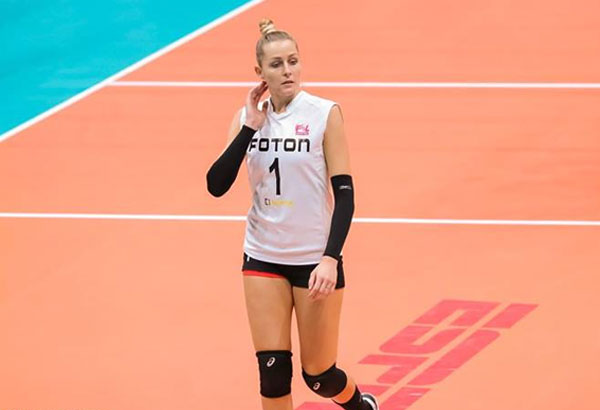 Sara Klisura, who powered Foton in the last tournament, will bring her high scoring game to the Cocolife Asset Managers.
Old and new imports to spice up PSL Grand Prix
MANILA, Philippines — Preparations for the Philippine Superliga (PSL) Grand Prix have shifted to a higher gear as imports started to trickle in for the season-opening conference on Feb. 17.
Foreign players of Cignal, Sta. Lucia, Foton, F2 Logistics and Generika-Ayala are already in town, sparking the start of their buildup for what is billed as the toughest tourney in Philippine volleyball.
American attacker Jeane Horton quietly arrived Thursday night to embrace the ultimate mission of powering the HD Spikers to an impressive finish despite the absence of Honey Royse Tubino, Mylene Paat, Chie Saet, Paneng Mercado, Janine Marciano and Jovelyn Gonzaga.
Even head coach George Pascua will be gone after moving to Sta. Lucia Realty as part of the dizzying carousel in the off-season.
"We lost half of our team so our imports will definitely play a crucial role this conference," said Cignal team manager Edgar Barroga, adding that their second import is set to arrive on Friday next week.
Also already in the country are Ukrainian Bohdana Anisova for the Lady Realtors, Serbian Katarina Vukamanovic, Canadian Elizabeth Wendel and American Brooke Kranda for the Tornadoes, Kennedy Bryan for the Cargo Movers and Darlene Ramdin for the Lifesavers.
Croatian Katarina Pilepic is set to arrive Friday night while Mexican libero Kimberly Gutierrez will land next week for the Lifesavers, who just tapped former Ateneo de Manila mentor Sherwin Meneses as their new head coach.
F2 Logistics, meanwhile, will roll out the red carpet for reigning Most Valuable Player Maria Jose Perez of Venezuela on Sunday while moving closer to a deal with libero Minami Yoshioka of Japan.
"She (Maria) will be here on Sunday. We can't wait to start training with her," said F2 Logistics team manager Hollie Reyes.
With the imports of the five clubs already on board, only Cocolife and Petron are left with no foreign players in town.
Asset Managers team official Joshua Ylaya said Serbian Sara Klisura will be arriving on Tuesday while American Taylor Milton will land on Friday after joining her mom, a triathlete, who is training for a big race in New Zealand.
"She (Milton) will be here on the 26th," said the amiable Ylaya. "On the other hand, Sara will be coming in from Serbia on Tuesday."
Petron, meanwhile will re-employ Americans Hillary Hurley and Lindsay Stalzer as well as Japanese libero Yuri Fukuda – the same trio that brought it to a deep run in the Grand Prix last year.
They will arrive next week.