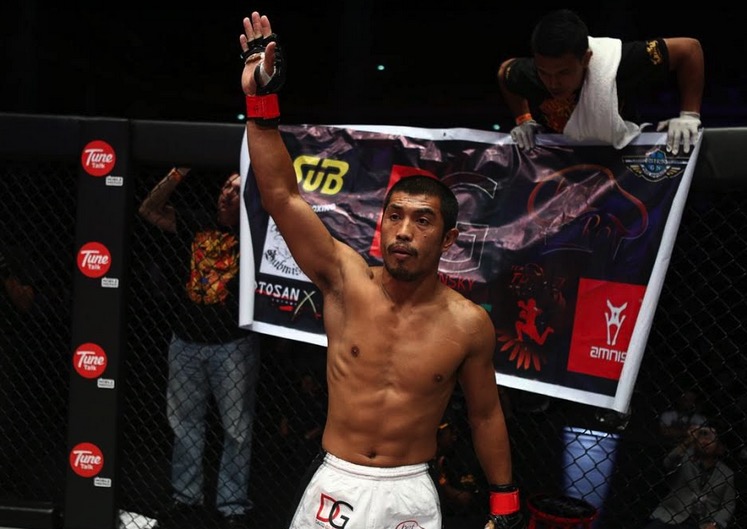 Eric Kelly looking to reignite ONE Championship career
(philstar.com) - January 19, 2018 - 12:41pm
MANILA, Philippines — Eric Kelly may have fallen in recent times, but the Filipino mixed martial arts veteran still feels that he has something more to prove as he attempts to revive his professional career in ONE Championship.

Reeling from a three-bout losing skid, Kelly is determined to reinsert his name into winner's column as he is slated to take on returning Brazilian standout Rafael "Indio" Nunes.

"It is very much important to me to win in this coming bout against Rafael Nunes. I want to show to those who believe in me that I can make it not just for myself, but for all," he said. "I want this victory so bad."

Both men are set to face each other on the undercard of "Global Superheroes," which comes off wraps at SM Mall of Asia Arenaon January 26.

The 35-year-old Baguio City native was once considered as one of the best and brightest featherweight contenders in the Asian region when he started his martial arts run in 2009, but his billing lost its luster due to a string of setbacks.

Despite the series of losses, his confidence remains unfazed as he brings a indomitable and positive attitude into his upcoming bout against Nunes.

Kelly's foe boasts an impressive professional record of 10-1, with five victories coming by way of submission and another four by knockout. The last time he competed was in June 2014, where a spirited showing was negatd by Koji Ando's rear-naked choke in the opening round.

Nunes has not been able to avenge his lone blemish in his career as illness and injury have derailed his comeback.

More than three years after his last match, Nunes' hunger for his first win on the global stage might only be rivaled by Kelly's desire to get back on the winning track.

According to Kelly, it is not easy to study an opponent who lives on the other side of the world and coming off such a long layoff.

"He has been away for a while, so I am not sure if he got stronger or improved," he stated. "All I know is that I am training to achieve a win."

Although a tough task is in front of him, Kelly is more fired up than ever to arrest his losing spell and deliver a winning performance next week.

"My opponent is a human like me, and everyone is beatable. I always put that in my mind. Right now, I have to redeem myself in front of my countrymen. I might be 35 years old, but I am not giving up. I am here to stay," he declared.