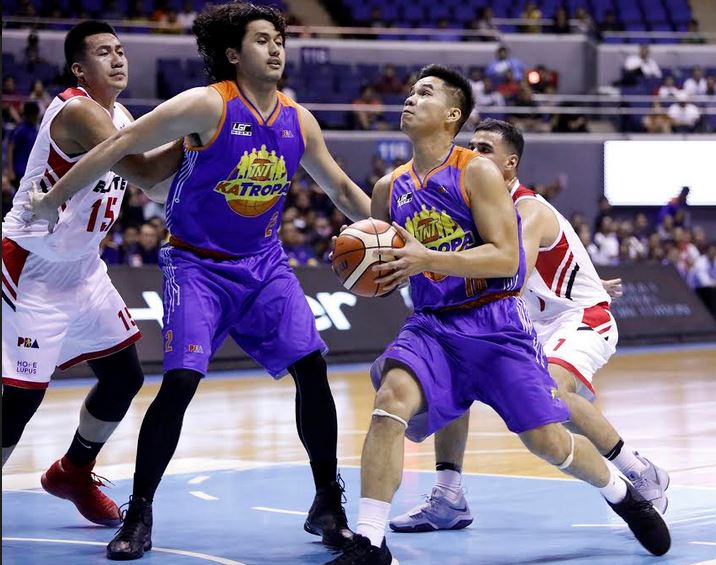 RR Pogoy of TNT drives past Blackwater defenders during the KaTropa-Elite clash at the Smart-Araneta Coliseum, Wednesday night. TNT won after trailing early in the game, 92-83. | PBA Media Bureau
TNT repels pesky Blackwater
MANILA, Philippines – TNT turned back a proud Blackwater side, 92-83, to cap Wednesday night's PBA hostilities at the Big Dome and improve their standing in the Philippine Cup.

KaTropa drew the brunt of their offense from their backcourt, with Rookie of the Year Roger Pogoy leading the scoring department with 24 points. Jayson Castro finished with 17 while RR Garcia chimed in 12 off the bench.

Tony Semerad and Troy Rosario scattered 11 and nine points, respectively, to help TNT claw back from a 10-point rut and mount a comfy advantage that swelled by as many as 17.

"Our rotation messed up in the first half, good thing we recovered in the second half. Going into this game, we knew that we gonna have a hard time against Blackwater," revealed TNT mentor Nash Racela.

"We knew that it's not gonna be easy getting a victory over them. It would take our absolute best and they really able to challenge us, especially in the second half. Our shots started to fall," he added.

JP Erram of the Elite was his usual prolific self, tallying 20 points, as if reprising his strong outing when Blackwater defeated Ginebra in their previous outing.

Veteran Mike Cortez, too, again made his persence felt with 14 points as a starter.

Mac Belo and Mike DiGregregorio combined for 18 points as the Elite mounted a last-ditch effort, narrowing the gap late in the fourth to just six.

TNT committed more errors compared to Blackwater (21-11) but the former rode on their experience, making the most out of their conversions from the chairty stripe and rebounds (64-48).

The two teams are now 2-2 in the all-Filipino conference.

The Scores:

TNT 92 - Pogoy 24, Castro 17, Garcia 12, Semerad 11, Rosario 9, Williams 6, Tautuaa 6, Reyes 2, Golla 0, Onwubere 0, Carey 0.

Blackwater 83 - Erram 20, Cortez 14, Digregorio 9, Belo 9, Maliksi 9, Jose 7, Sumang 5, Marcelo 4, Sena 4, Pinto 2, Cruz 0.

Quarterscores: 15-16, 36-43, 65-57, 92-83