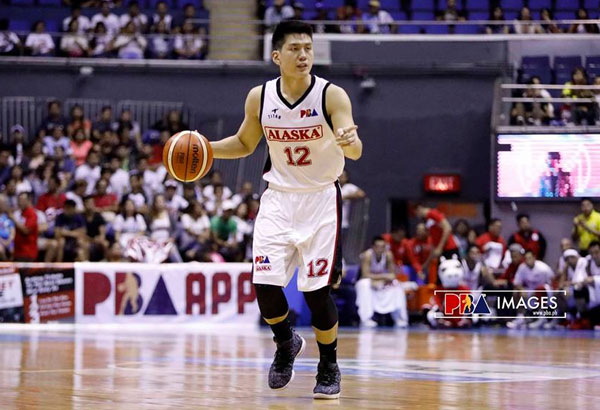 After four games, Jeron is Alaska's scoring leader, ahead of Calvin Abueva (16.26 points), the team's lead force from his rookie year in 2012. | PBA Images
Aces land a scoring gem in Jeron Teng
MANILA, Philippines – Jeron Teng is proving to be Alaska Milk's steal at No. 5 in the recent PBA Rookie Draft, with the former La Salle top gun hinting at the arrival of the next big thing for the Aces.
Teng topscored in two of their first four games and emerged among the early leaders in scoring in the first three weeks of the PBA Philippine Cup — No. 1 for his team and No. 9 among all players with his average of 18.75 points an outing.
The 6-foot-2 guard/forward has also shown admirable strength in getting the rebounds as he snared 5.5 a game — third best in his team next to Calvin Abueva (10.5) and Jack Pascual (6.67).
He took charge with 28 points in their 98-106 loss to TNT KaTropa and paced the team with 23 in their 102-65 demolition of Kia.
And after four games, he is Alaska's scoring leader, ahead of Abueva (16.26), the team's lead force from his rookie year in 2012.
"We're very happy with the pick that we have at No. 5," said Alaska coach Alex Compton, ecstatic on what they're getting from their draft selection.
Alaska netted Teng at No. 5 after San Miguel Beer drafted Christian Standhardinger at No. 1, NLEX tabbed Kiefer Ravena at No. 2, Blackwater chose Toto Jose at No. 3 and Phoenix opted to get Jason Perkins at No. 4.
Compton wasn't surprised with Teng's showing.
"Jeron is Jeron. He's been taking over since he's eight. He's always been dominating. He has knack for it since he started playing the game," said Compton, recalling Teng's overpowering performances at Xavier School.
"He inherited Alvin (Teng's) body. He's big and enforcer. He doesn't have a rookie body. A rookie has to come in and learn how to bang with the big boys. It seems Jeron, in his whole career, as he went to the next level, immediately he's one of the big boys," Compton also said.
"His physicality, it helps him in rebounding and in getting to the basket. He draws a lot of contact, and he's got a knack at scoring the basket," Compton added.
Teng obviously was among the catalysts as the Aces won their last two games against the Meralco Bolts (103-98) and Kia.
Meanwhile, Ravena and Magnolia ace guard Paul Lee expressed mutual respect and admiration after finally playing against each other Sunday.
Ravena sizzled with a game-high 31 points, but Lee had his own solid performance with 21 markers as the Hotshots clobbered the Road Warriors, 105-94.
"He's very good. If you do not know him, you wouldn't think he's a rookie. He's talented and gifted. He'll go places," said Lee of Ravena.
"He's one of the best point guards in the league. So when you play him, you have to play you're A-Game as a respect to him," said Ravena.