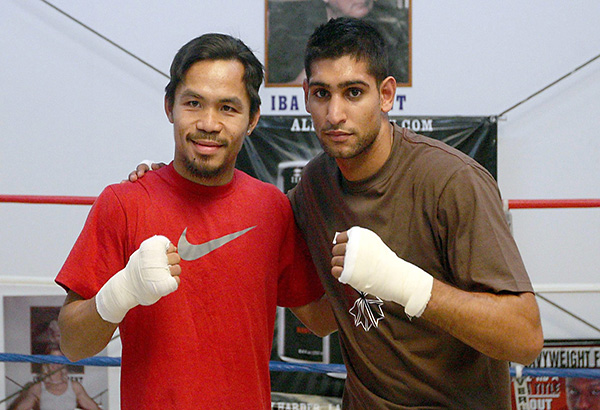 Manny Pacquiao and Amir Khan
Khan not giving up on Pacquiao fight
MANILA, Philippines – British fighter Amir Khan is still hoping to get in the ring with Manny Pacquiao someday.
The former two-division world champion recently said he believes that Pacquiao still got what it takes to compete at the top level, despite losing his last fight against Jeff Horn.
"I still think he's got a few fights left in him. A huge name in boxing, being one of the biggest names in the welterweight division still, even though he was beaten by (Floyd) Mayweather, then Jeff Horn," Khan told Sky Sports.
Khan even thought Pacquiao defeated Horn their 12-round bout in Brisbane, Australia last year.
"I think he won that fight, but he didn't get it," he added.
Curiously, Khan had been the frontrunner to fight Pacquiao before the Filipino icon eventually decided to defend the WBO welterweight title against Horn. Khan and Pacquiao have a history together, being former sparring partners and training under Freddie Roach.
Khan hasn't fought since losing to WBC middleweight champion Saul Alvarez in May 2016, and he is looking to get back on track soon.
Pacquiao, for his part, has likewise been inactive since getting upset by Horn, and Khan hopes their paths will cross in the future.
"In his last two years, he's had two defeats, but look, he's still up there as one of the top fighters in the welterweight division. To fight someone like him and to be in the same ring as someone like him would be amazing," Khan continued.
"He's a legend in the sport already, but he still wants to keep on fighting. Imagine being put in the ring with him would be something, I would love that."
Related video: