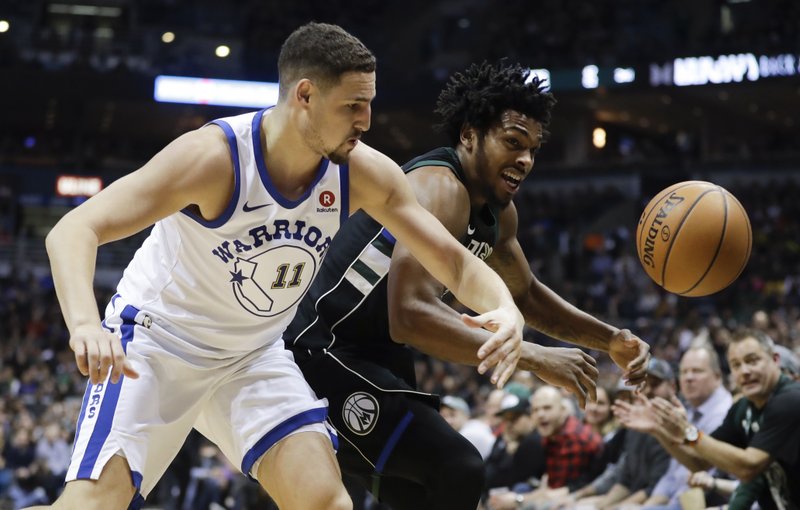 No Curry? No problem in Warriors' 108-94 road win over Bucks
(Associated Press) - January 13, 2018 - 12:30pm
MILWAUKEE — The Golden State Warriors turned up the heat late on the Milwaukee Bucks before finishing them off from the perimeter.
Even the absence of sharpshooting star Stephen Curry and a low-key night for fellow Splash Brother Klay Thompson couldn't slow down the best team in the West at the end.
Kevin Durant scored 26 points, Draymond Green added 21 and Golden State used a 13-4 run in the fourth quarter to pull away for a 108-94 win Friday night (Saturday in Manila).
With Curry still sidelined by a right ankle injury, the Warriors clamped down on defense and did most of their damage on the other end in the lane.
Durant's mid-range jumper gave Golden State a 96-90 lead before the All-Star forward hit an open 3 with 2:15 left to cap the run with a three-possession lead. The Warriors were just 3 of 13 from 3-point range until Durant and Green hit back-to-back 3s in the final 3 minutes to seal their 11th straight road win.
"We were just getting lazy," coach Steve Kerr about his team's defense in the third quarter. "It caught us off-guard a little bit but we were able to get back to our defensive mentality of being the aggressor in the fourth quarter."
Giannis Antetokounmpo had 23 points, while Eric Bledsoe added 21 to lead the Bucks. They were outscored 28-12 in the fourth after hitting just 5 of 20 from the field.
"We've got to keep moving the ball, we've got to stay consistent moving the ball well and get defensive stops," said guard Tony Snell (11 points).
Milwaukee played some of its best ball with Antetokounmpo off the court. He didn't play the final 4:41 of the third quarter after picking up his fourth foul.
Trailing by 14 at halftime, the Bucks turned to the Golden State way to get back in the game — hitting clutch shots from 3-point range .
Malcolm Brogdon (17 points) and Snell hit two 3s apiece in the 15-7 run with Antetokounmpo on the bench to give Milwaukee an 82-80 lead after three quarters.
The defending NBA champions asserted dominance over the aspiring contender in the East in the fourth.
Durant had 17 first-half points to help Golden State build its 63-49 halftime lead. With Curry out, the Warriors instead focused on driving to the hoop and gave the Bucks fits at time with cutters.
Durant might be one of the few scorers in the league who can still teach Antetokounmpo a few moves, like the fake Durant used to blow past the Bucks' star for an easy dunk.
"Having a player like that who elevates your level of play definitely makes you better as a basketball player so I appreciate times like this," Durant said.