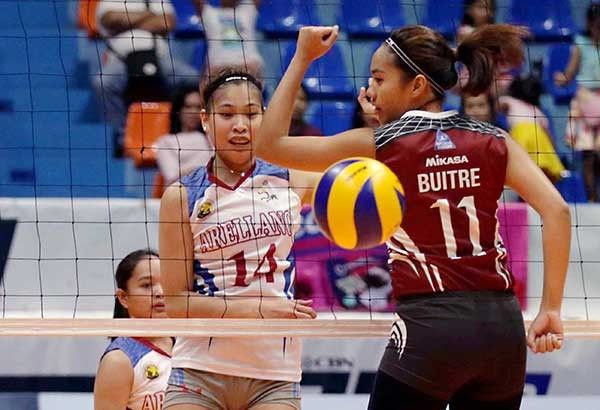 Regine Arocha and skipper Mary Anne Esguerra combined for 15 kills for the Lady Chiefs, who finished with 39 attack points, 21 more than their Muralla-based rivals, on their way to notching their third straight win. Ernie Peñaredondo/Philstar.com/File Photo
Lady Chiefs overwhelm Knights, wrest solo lead
MANILA, Philippines — Defending champion Arellano University overpowered Letran from the attack line and fashioned out a 25-17, 25-17, 25-12 victory to wrest the solo lead in the NCAA Season 93 women's volleyball tournament at the Filoil Flying V Center in San Juan yesterday.
Regine Arocha and skipper Mary Anne Esguerra combined for 15 kills for the Lady Chiefs, who finished with 39 attack points, 21 more than their Muralla-based rivals, on their way to notching their third straight win.
St. Benilde and San Beda dropped to joint second with 2-0 marks.
With Arocha and Esguerra combining in their romp in the first two sets, setter Sarah Verutiao took over in the third frame, anchoring a stirring 15-1 run spiked by a superb stint at the service box. Necole Ebuen and Jovielyn Prado also provided the firepower to complete the straight-set rout.
Arocha and Ebuen finished with 11 points each, Esguerra had eight, all on spikes, while Prado chipped in seven markers.
Verutiao tallied three aces to finish with five points on top of 21 excellent sets.
Glayssa Torres and Jaymeleen Parin had a combined 13-hit output for Letran, which failed to follow up its victory over Mapua the last time out and fell to 1-2.
"What we worked hard for in practice simply showed. I think they are also bent on fulfilling what we talked about which is defending the title," said AU coach Obet Javier.
Shola Alvarez, meanwhile, erupted with 24 points as Jose Rizal University slammed Emilio Aguinaldo College, 25-20, 25-16, 25-16, for its second straight win after an opening game setback.
Alvarez delivered six points in the Lady Bombers breakaway from a 13-12 count in the third set as JRU checked an early struggle against the Lady Generals and completed their 66-minute triumph.
"Actually, that is our problem sometimes, the team is still not used to finishing strong. They just need to be reminded to finish strong, compose themselves and be a little more aggressive," said JRU coach Mia Tioseco, whose wards previously stunned the San Sebastian Lady Stags.
Dolly Verzosa and Karen Montojo backed Alvarez with a combined 13 points.
Ladeisheen Magbanua scored nine points, Jaylene Lumbo wound up with seven while Crislie Pablo and Yvette Tongco added five apiece for EAC which remained winless in three games.
Earlier, the Lady Chiefs dominated right from the start with Arocha delivering the blows to help them stay ahead at 18-10.
The Lady Knights cut the lead to four twice, the last at 15-19, but failed to sustain their fightback with erratic plays.
Esguerra and Arocha then teamed up in the second set as AU recovered from a 0-5 start and built an 18-10 lead.
The Lady Chiefs then broke off from a 4-all count in the third set and ran off to a 19-5 advantage en route to the victory.