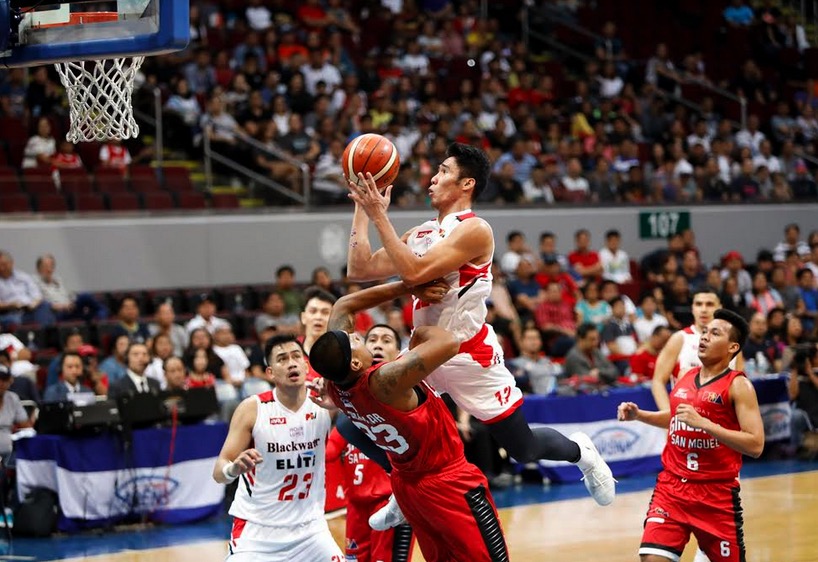 Blackwater's Mac Belo soars past Ginebra's Raymond Aguilar during the Elite and the Kings' PBA clash at the MOA Arena, Friday, Jan. 12, 2018. | PBA Media
Elite stun Kings for 2nd straight win
MANILA, Philippines — The Blackwater Elite cruised to their second-straight victory in the PBA's Philippine Cup with a 94-77 whipping of the crowd favorite Barangay Ginebra Gin Kings in the Friday nightcap at the Mall of Asia Arena in Pasay City.

Elite's frontline one-two punch in JP Erram and Mac Belo figured as the spearhead of the team's offense, accounting for 44 points.

As if that wasn't enough, national team sharpshooter Allein Maliksi chalked up 17 more to leave the Gin Kings scrambling for production and head coach Tim Cone perplexed along the sidelines.

"It's gonna be something special for our team if well be able to hand Ginebra its first loss this conference and on our part, our first win for 2018. Luckily, were able to do what we have planned," said Blackwater mentor Leo Isaac.

Ginebra was able to draw double-digit scoring from four of its players — including the now-sharp and healthy Greg Slaughter. But they simply couldn't claw their way back into the game after falling into a 17-point rut midway the affair.

The win puts Blackwater alongside Barangay Ginebra with two games and a loss.

The Elite takes on TNT next on Wednesday next week while the Gin Kings tackle the Fuel Masters in the last Friday of the month.

The Scores:

BLACKWATER 94 - Erram 22, Belo 22, Maliksi 17, Jose 8, DiGregorio 8, Sena 7, Cortez 4, Palma 4, Marcelo 2, Pinto 0, Cruz 0, Sumang 0.

GINEBRA 77 - Slaughter 20, Tenorio 16, Aguilar 14, Thompson 12, Cruz 4, Taha 4, Caguioa 3, Ferrer 2, Mariano 2, Wilson 0, R. Aguilar 0.

Quarters: 19-19, 41-33, 64-61, 94-77.