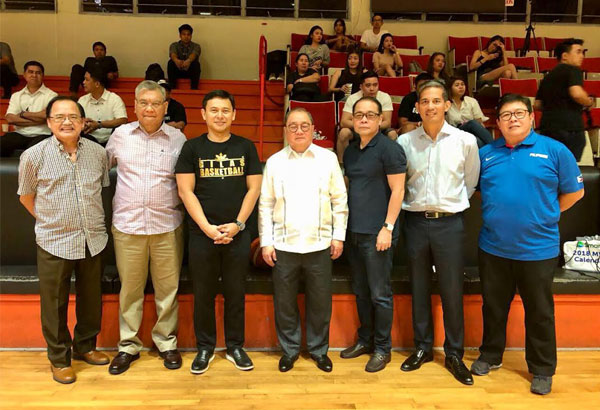 Cage patron Manny V. Pangilinan and the other SBP top brass show up at Gilas practice Monday. From left to right are deputy executive director Bernie Atienza, executive director Sonny Barrios, chairman Sonny Angara, Pangilinan, vice chair Robbie Puno, president Al Panlilio and deputy executive director for international affairs and Gilas team manager Butch Antonio.
SBP banking on Angara for Gilas naturalized players
MANILA, Philippines – Sen. Sonny Angara is to play a key role in the Samahang Basketbol ng Pilipinas' plan to put up a pool of naturalized players who can alternately play with Gilas Pilipinas in the long series of qualifying games for the 2019 and the 2023 FIBA World Cups.
The legislator from Baler, Aurora will sponsor the naturalization bill in the Senate while Antipolo Rep. Chiqui Roa Puno, wife of SBP vice chair Robbie, does her part in Congress.
"No specific names yet. Coach Chot Reyes will make a thorough study. We don't want a shotgun approach," said Barrios.
In the first place, there's no urgency since Andray Blatche is still very much committed to play with Gilas.
"Andray Blatche is still in commission. The SBP is looking forward to see Blatche back in his old condition where he performed with flying colors in the 2014 World Cup in Seville," said Barrios.
SBP leaders came in full force in the resumption of the Gilas training at the Meralco Gym Monday. Welcoming the young cadets to the Gilas program were the chairman, the vice chair, the executive director, SBP chairman emeritus Manny V. Pangilinan, president Al Panlilio and deputy executive director Bernie Atienza.
Angara took time out from his legislative chores to boost the morale of the players and indicate his personal support to strengthen the national teams for international competitions.
"The SBP is fully behind the current Gilas pool and the future Gilas pool," said Barrios.