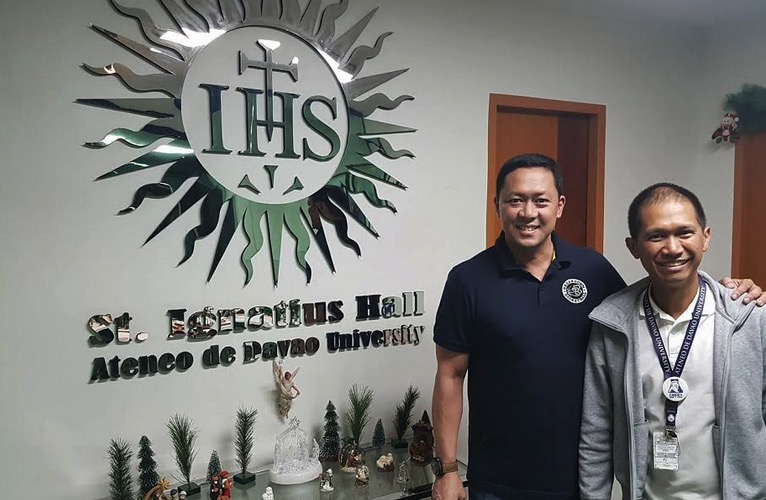 Breakdown Basketball Invitationals founder Jay Adevoso with Ateneo de Davao Athletic Director Noli Ayo whose wards will take part in the U-12 and U-17 national championships in Manila this March 13. | Contributed Photo

Breakdown Basketball Invitationals goes nationwide
(philstar.com) - January 3, 2018 - 2:24pm
MANILA, Philippines — Breakdown Basketball Invitationals, one of the fastest-growing grassroots leagues in the country, will hold its first national championship for the 12-Under and 17-Under age divisions this coming March 13-17, 2018.
Now on its third year mounting tournaments for five different age brackets, BBI is set to find participating teams from Bulacan, Cagayan De Oro, Cavite, Davao, Iloilo, and Naga.
"Breakdown Basketball Invitationals will be having its first ever National Championships for the 12-Under and 17-Under age divisions," said founder Jay Adevoso.
"The BBI National Championships will be held in various venues such as Xavier and Ateneo de Manila. Exciting times await all our first time attendees as we promise a great tournament where the players, coaches, and fans will be treated to very competitive games all for the benefit and exposure of our participants," he added.
The defending champions for the 12-Under Division is La Salle Greenhills while San Beda High School are the reigning U-17 titlists in the skirmish is sponsored by Smart, Cherifer, San Marino corned tuna, sulit.ph, and Mared Rubber.