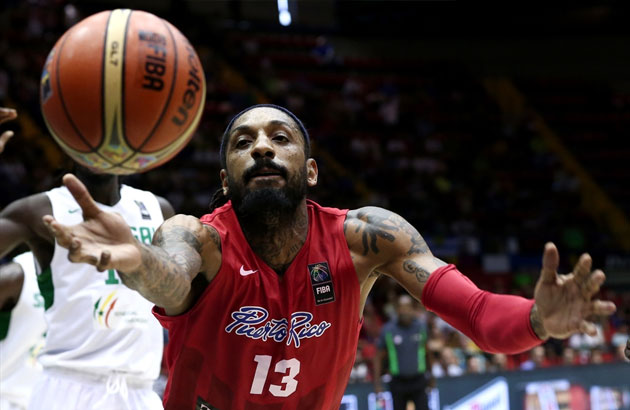 Renaldo Balkman | FIBA.com photo
Balkman seeks redemption in ABL stint for Alab Pilipinas
MANILA, Philippines – Renaldo Balkman is returning to the Philippines seeking redemption as he and Justin Brownlee suit up for Alab Pilipinas as replacement imports in their game against the Westport Malaysia Dragons in the ASEAN Basketball League Wednesday night at the Filoil Arena in San Juan City.
Balkman, 33, will return to a country where he was known for being banned by the PBA for choking ex-Petron Blaze — formerly San Miguel — teammate Arwind Santos five years ago to not only help salvage Alab's floundering ABL campaign but also to earn vindication.
"Thankful for another opportunity to do what I love to do," said Balkman, born in New York but plays for the Puerto Rican national team, on his Facebook page.
"Five years to the day, I did something that I regret and I learned a valuable lesson from it, always remember to keep your composure and to be the best role model you can be, now I finally have a chance for redemption," he added.
Balkman, a former first round pick by the New York Knicks in the 2006 draft, was a last-minute choice by Alab after it initially targeted Henry Walker — the Blackwater Elite's resident import — and will arrive early today along with Brownlee, who helped steer Brgy. Ginebra to back-to-back Governor's Cup crowns late last year.
"They will be arriving at 5:45 a.m. tomorrow (Wednesday) and will play in the evening," said Sheryl Reyes, Brownlee and Balkman's agent.
Balkman and Brownless will take over from Chukwunike Okosa and Ivan Johnson, who posted impressive numbers but couldn't spark anything from an uninspired Alab side as the team fell to a miserable 1-3 (win-loss) start.
Alab's very first win came against the Formosa Dreamers, a 78-61 in Chinese Taipei on December 16 when Johnson sat out the whole game.
Okosa averaged 24 points, 13. 5 rebounds, two assists, 1.75 steals and 1.5 blocks in four games while Johnson posted norms of 22.67 points, 10.67 boards, 3.67 dimes, 2.33 steals and 1.33 blocks in three outings.
Alab hopes Balkman and Brownlee will help change its fortune for the better.