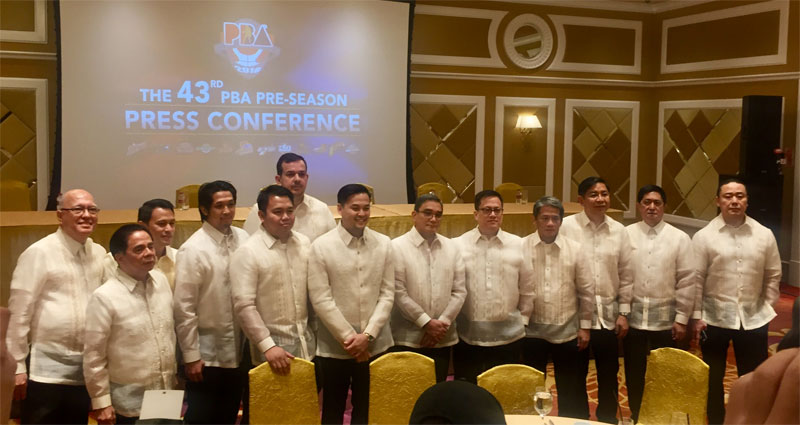 The PBA Board of Governors, team representatives with outgoing chair Mikee Romero (seventh from left) during the league's preseason press conference at Okada in Parañaque last December 12. | Philstar.com
PBA mulls bringing back 'no-harm, no-foul' rule amid clamor for faster games
MANILA, Philippines – New season. New commissioner. New PBA.
That's where the Philippine Basketball Association looks well headed for, with several PBA team officials all mulling proposals to improve the conduct of the game and make the PBA play more appealing to the fans.
All are looking forward to January 26, the first meeting of the PBA board of governors after it plunged into a deep crisis on the unpopular Kia-San Miguel Beer trade approved by commissioner Chito Narvasa.
"The search for the new commissioner is on top of the agenda, but it's expected that several proposals will be put on the table because it's the first board meeting in the new season," said PBA officer-in-charge Willie Marcial.
There's a strong clamor for the PBA to return to the "no-harm, no-foul" rule.
"We should go back to that. This is basketball, and basketball is really a physical game. We should allow physicality but of course not the dirty ones," said Blackwater team owner Dioceldo Sy.
"Let some color to develop in the games. That's what the fans wants," Sy added.
Under Narvasa, the PBA became extra strict in appreciation of fouls, thus, prolonging the conduct of the game.
But grand slam-winning coaches Tim Cone and Norman Black are said to be among those for it.
"They like it because there are no gray areas on how the refs should call the fouls. Unlike in no-harm, no foul where the refs have the discretion on how to decide on fouls," said a PBA official.
But because of this kind of officiating, the PBA game is extended by 10 to 15 minutes.
The current PBA games last two hours and 20 minutes to 30. Before Narvasa's term, the games ran about two hours and five minutes to 10.
Most of the teams — and the fans — want a faster game.
A PBA insider said the refs are actually already in the process of slowly shifting back to the old system.
Another proposal is the reduction of time in-between games during the regular PBA double-headers on Wednesdays and Fridays. It's allotted on the TV5 news.
"There's a proposal that we start the game at 4:30 p.m. instead of 4:15 p.m. Kasi wala talagang tao (fans) sa venue by 4:15 p.m.," said Marcial.
Narvasa has served out a two-year tenure as PBA commissioner. By on Monday, Marcial is officially the PBA office-in-charge, who will run the affairs of the league until the board finds a commissioner.
The board is expected to set the parameters in their search of the new commissioner in their January 26 meeting.