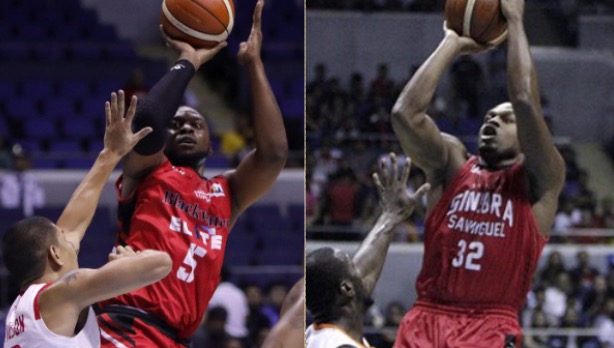 Imports Henry Walker (left) and Justin Brownlee in the uniform of the last team PBA team they served. | Composite Image/PBA Media Bureau
Alab taps well-loved PBA imports Walker, Brownlee
(The Philippine Star) - December 30, 2017 - 4:00pm
MANILA, Philippines -- Alab Pilipinas is bringing in PBA imports Henry Walker and Justin Brownlee with hopes of salvaging a floundering ASEAN Basketball League campaign.

Sources revealed Walker and Brownlee, who played for Blackwater and Barangay Ginebra in the last PBA conference, respectively, have come in to replace Chukwunike Okosa and Ivan Johnson, who posted impressive numbers but couldn't spark anything from an uninspired Alab side.

Alab chief executive officer Charlie Dy will make the official announcement anytime soon.

"Yes, its true and Alab will make an official announcement anytime now," said a source privy to the deal.

Walker, who played for Boston Celtics, New York Knicks and Miami Heat in the NBA as well as the Alaska Aces, NLEX Road Warriors and most recently the Blackwater Elite in the PBA, was given the green light by Blackwater to see action for Alab.

Brownlee, who helped power Ginebra to a second straight PBA Governor's Cup title, is available and should also be a big boost to Alab's title bid.

Walker and Brownlee are expected to fly to the country in time for Alab's game against the Westport Malaysia Dragons on Wednesday at the Filoil Arena in San Juan City.

Alab had a flat 1-3 (win-loss) start despite massive numbers by Okosa, who averaged 24 points, 13. 5 renounds, two assists, 1.75 steals and 1.5 blocks in four games, and Johnson, who normed 22.67 points, 10.67 boards, 3.67 dimes, 2.33 steals and 1.33 blocks in three outings.

Johnson curiously didn't see action in Alab's 78-61 win over the Formosa Dreamers in Chinese Taipei on December 16.

And Alab thinks an import change might shake things up for the team.