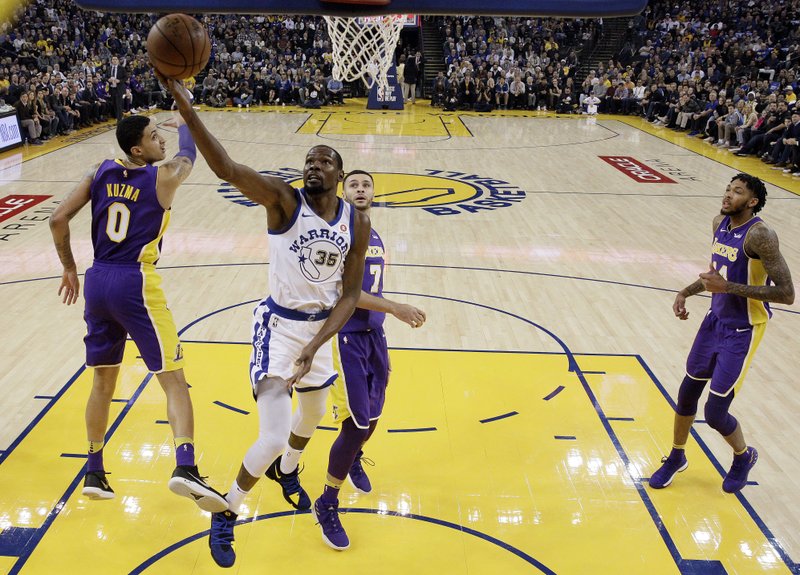 Durant leads Warriors past Lakers for 11th straight win
OAKLAND, Calif. — Steve Kerr had been waiting to see rookie Jordan Bell play significant minutes alongside Kevin Durant and Draymond Green.
With Green back to full strength, Bell got to shine — and the Golden State Warriors needed every little thing he provided on both ends.
Now Kerr just wants to add a healthy Stephen Curry back to the mix and give that lineup a nice long look.
Durant had 33 points, seven rebounds, seven assists and four blocks, and the Warriors held off the Los Angeles Lakers 113-106 on Friday night (Saturday in Manila) for their 11th straight victory.
Bell recorded his first career double-double with season bests of 20 points and 10 rebounds, making a key layup with 2:45 to go and dunking a minute later.
"They're the main guys on this team so the fact he wants to see me play with them more is a good sign for me in the future," Bell said of Kerr, who loves the rookie's instincts and wants him to keep learning at this level.
Klay Thompson scored 16 points and Green added 13 points, 11 rebounds and seven assists as he came back from a shoulder injury for the defending champs.
Kyle Kuzma scored 27 points and fellow rookie Lonzo Ball had 24 points with five 3-pointers in his first visit to Oracle Arena. Julius Randle added 21 points off the bench for Los Angeles, which snapped the Rockets' 14-game winning streak Wednesday night in Houston.
Durant shot 9 for 20 in the Warriors' 10th win in a row at home against the Lakers and sixth overall after Golden State outlasted the Lakers in overtime Monday night in Los Angeles.
Kerr and Lakers coach and former top Golden State assistant Luke Walton had a nice chat near the Warriors bench after the final buzzer.
Still without two-time MVP Curry, Golden State got some much-needed reinforcements.
Green returned after missing five of six games with soreness in his right shoulder, while Andre Iguodala also was back after sitting out Wednesday night's win against Memphis with flu-like symptoms.
"That was huge. I don't think we win that game without Andre and Draymond," Kerr said. "It's great to have Draymond back after his absence. He brings an energy to the game that otherwise was lacking last game."
The Lakers, who trailed by as many as 23 in the third quarter before getting within 84-72 going into the final 12 minutes, briefly took their first lead of the night at 89-88 on Randle's 3-pointer with 7:43 remaining.
Los Angeles cut the lead to 86-81 on a steal by Josh Hart and Kuzma's layup with 9:39 left, then 88-86 when Kentavious Caldwell-Pope hit a 3-pointer at the 8:09 mark.
"The way they compete night in and night out playing against some really good teams lately is really impressive," Walton said.