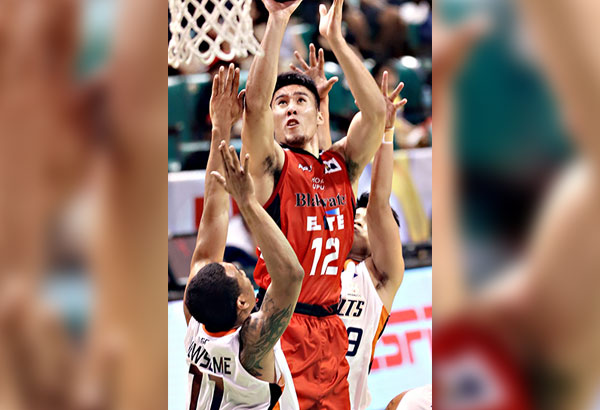 Mac Belo of Blackwater shoots over Chris Newsome and Baser Amer of Meralco in their PBA Philippine Cup game yesterday at the Cuneta Astrodome in Pasay. Joey Mendoza
KG Canaleta lifts Meralco Bolts over former squad
MANILA, Philippines — Left unsigned by the Blackwater Elite at the end of last season, 14-year PBA veteran KG Canaleta made his former team pay for it with a rousing debut with the Meralco Bolts.
The former UE Warrior led Meralco to a huge 31-point turnaround then personally quashed Blackwater's own comeback with a clutch triple as the Bolts subdued the Elite, 103-98, in the PBA Philippine Cup at the Cuneta Astrodome last night.
Canaleta torched his former team with 25 points, including a dagger trey and two free throws to cap a blistering first game with his ninth team in the pro league.
"My teammates are all very supportive of me, so I didn't have a hard time adjusting with them," said Canaleta.
"He's certainly a good addition to the team," said Meralco coach Norman Black.
Canaleta was a big key as the Bolts survived a rollercoaster game and got the winning start that they badly wanted.
"It's a good start considering it's the all-Filipino. We always struggle in the all-Filipino. So we take this win and move on," said Black whose team was last placer in the 2015-16 Philippine Cup and barely posted three wins for an 11th-place windup in this same tourney last season.
Against the Elite, the Bolts actually got to a poor start before making the crucial 31-point turnaround from 12 points down in the second period.
But the Bolts nearly squandered a 19-point bulge in the fourth, needing Canaleta to return to play in the last 33 seconds and make the bailout shots – a triple and a pair of charities.
"I wasn't happy with the first quarter. We didn't have a foul. Normally, you don't get a foul because you don't play defense. We picked up energy in the second quarter and we showed so much energy in the third," said Black.
Rain or Shine made a key crucial run from a 68-all count and rolled to an 82-79 win over TNT KaTropa in the nightcap.
Ed Daquioag and Beau Belga fired back-to-back treys then Maverick Ahanmisi converted a reverse layup from that standoff, and the Elasto Painters held onto the lead for a winning start in the tourney where they finished eighth last year.
The scores:
First Game
MERALCO 103 – Canaleta 25, Amer 17, Dillinger 15, Newsome 12, Lanete 8, Ballesteros 6, Tolomia 6, Baracael 5, Faundo 4, Hugnatan 3, Caram 2, Salva 0.
BLACKWATER 98 – Jose 16, Maliksi 16, Sumang 15, Belo 13, Erram 11, Cortez 8, Digregorio 6, Javier 6, Sena 4, Pinto 3, Banal 0, Cruz 0, Marcelo 0.
Quarterscores: 23-27, 44-44, 66-77, 103-98
Second Game
RAIN OR SHINE 82 – Belga 14, Tiu 12, Norwood 11, Almazan 11, Ahanmisi 9, Daquioag 8, Nambatac 5, Borboran 5, Trollano 4, Ponferada 3, Yap 0, Maiquez 0.
TALK N' TEXT 79 – Castro 18, Pogoy 16, Semerad 13, Williams 11, Rosario 8, Reyes 7, Torres 4, Tautuaa 2, Tallo 0, Nuyles 0, Carey 0.
Quarterscores: 20-20, 43-37, 62-51, 82-79