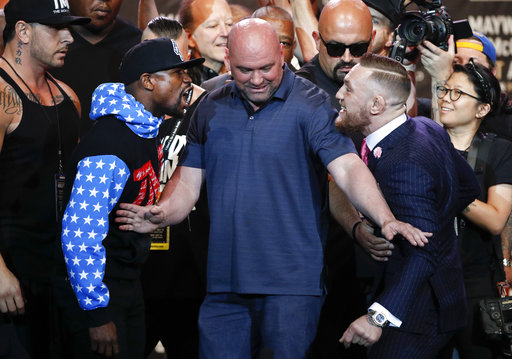 Floyd Mayweather Jr. (left) and Conor McGregor (right) are separated by UFC's Dana White. | AP File Photo
Mayweather denies talks with UFC for MMA fight
MANILA, Philippines – Floyd Mayweather Jr. said he has not negotiated with the UFC about stepping into the octagon and taking part in an MMA bout under the promotion.
This is in direct contrast with recent statements made by UFC president Dana White, who said he is currently in talks with Mayweather.
Speaking to Fighthype.com, the retired Mayweather clarified that he while he "could" fight in an MMA bout, that doesn't automatically mean he would actually to it.
"....Exactly what I said is this, if I made over a billion dollars before, I could do it again. If I chose to get in the UFC and fight three fights or fight four fights and then fight Conor McGregor, I could make a billion dollars, which I can," he told the boxing website.
"We just don't know what the future holds for Floyd Mayweather. I'm just saying I could; I'm not doing it, but I'm saying what I could do to make a billion dollars quick. I never said I was going to fight in the UFC — 'would' and 'could do' [are] different things. I'm not going to do it though," said Mayweather to Fighthype.com.
Mayweather last saw action in May, stopping Conor McGregor in a rare boxing showdown between a boxer and an MMA fighter. Both fighters earned millions in the process.
Now, White wants Mayweather to cross over to MMA as well.
"We're talking to Floyd about doing a UFC deal," White recently told ESPN. "It's real. He was talking about [boxing] Conor McGregor. Was that real? Have you heard Floyd talk about many things that aren't real? He usually tips his hand when he's in the media and then that [expletive] ends up happening."
"We're interested in doing something with Floyd. Everything is a realistic possibility. Mayweather vs. McGregor [expletive] happened. Anything is possible," he added.