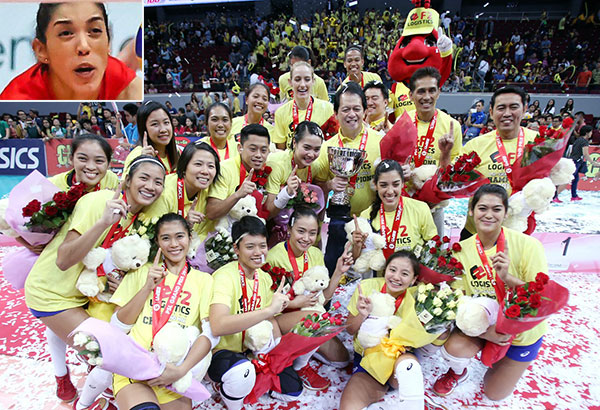 Members and team officials of Team F2 Logistics celebrate after conquering Petron in sudden death to claim their first SuperLiga Grand Prix crown Saturday with a grieving Venezuelan Maria Jose Perez (inset), the conference MVP, leading the team to victory. Joey Mendoza
Perez overcomes grief, personal loss to bag crown, MVP honors
MANILA, Philippines — For powering F2 Logistics to its first Grand Prix title in a big series comeback against Petron, Maria Jose Perez of Venezuela claimed the Most Valuable Player honors in the Chooks-to-Go Philippine SuperLiga Saturday.
But the battle went beyond the court for Perez who played through the pain of losing her older brother to cancer a day before the match to lead the Cargo Movers in the winner-take-all against the Blaze Spikers to the import-laden conference crown at the Mall of Asia Arena in Pasay.
Perez, who opted to keep mum about her personal loss, went on to post a team-high 24 points all on attacks to hand the Grand Prix crown to F2 Logistics and nail the coveted individual plum – two awards which she dedicated to her brother.
"I was thinking about that (dedicating the title and MVP to her deceased brother) because I know that's the only thing that will make my family happy," said Perez, her voice cracking while trying to hold back tears.
Perez chose to withhold the information from her teammates except for skipper Cha Cruz, who then told mentor Ramil De Jesus the morning of the match.
"I just want to work for my team. I didn't think about my loss. I know I have a big responsibility with my team so I tried to smile and be strong because I know we had this opportunity to win this game. I don't want to bring sadness to my team. I want to bring happiness and just give my best to my team," said Perez.
"My hat goes off to Maria. She's very professional. She didn't want the team to know about it. I don't know how she was able to pull herself together. She didn't show that she was grieving. She didn't let it affect her performance in practice and in the game," said De Jesus.
"It was only Cha Cruz who knows about it. Cha told me this morning (Saturday) and that Maria didn't want the team to know. She (Perez) said she will give her all today (Saturday) and dedicate the game to her brother," said De Jesus.
Perez, who donned her country's colors in the 2008 Beijing Olympics, led 10 other individual awardees feted in rites after the Game Three match.
Other Cargo Movers awardees were Majoy Baron (2nd best middle blocker), Kim Fajardo (best setter), Kim Dy (2nd best opposite spiker) and Dawn Macandili (1st best libero).
Petron, which took the series opener but faltered in the next two games, also took home individual recognitions with Americans Hillary Hurley and Lindsay Stalzer named first and second best outside spikers, respectively, Mika Reyes pocketing the first best middle blocker award and Japanese Yuri Fukuda snaring the second best libero trophy.
Third-placer Foton's Jaja Santiago bagged the first best opposite spiker plum while teammate Sara Klisura of Serbia, who rewrote league records with her 41-point explosion over F2 Logistics in the eliminations, notched the best scorer in a match.