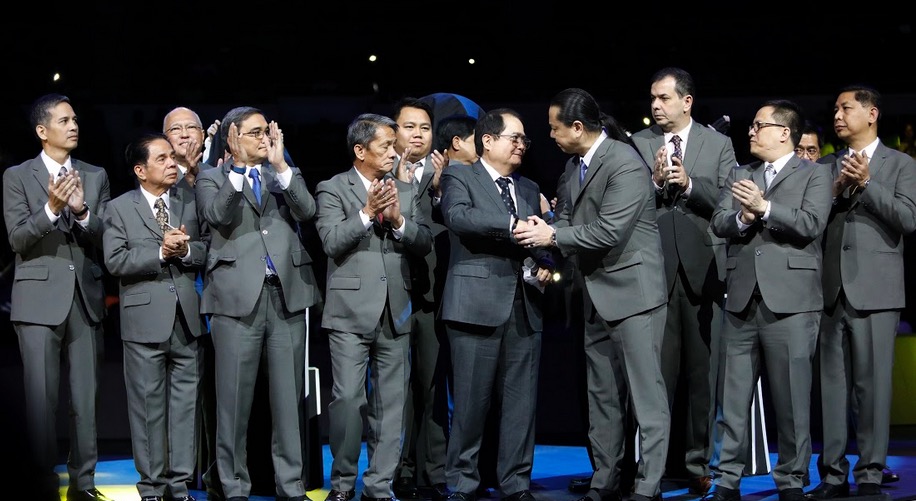 The PBA Board during the opening ceremonies of the PBA's 43rd Season at the Smart-Araneta Coliseum, Sunday Dec. 17, 2017 | PBA Images
MANILA, Philippines — Shortly before the opener of PBA Season 43, the PBA crisis came to an end, with the opposing blocs in the league board striking an agreement and subsequently starting a healing process towards making the PBA stronger than ever.
MVP/PLDT Group top official Ricky Vargas assumed the league chairmanship, and the board accepted the resignation of commissioner Chito Narvasa before appointing PBA external affairs and media bureau chief Willie Marcial as officer-in-charge.
"We're stronger, and we look forward to a fruitful 43rd season," said Vargas after announcing the resolution on the board standoff on the tenure of Narvasa as the league's ninth commissioner.
Vargas and all the other PBA governors faced the sports media and announced the breakthrough before gracing the opening rites of the league's 43rd season.
"We reached out to commissioner Narvasa. We made amends for things that needed to be clarified and worked out on his personal hurt in the process," said Vargas.
"As a result, he submitted his resignation, thanking the PBA, and the PBA thanking him for his contribution to the league," Vargas added.
Narvasa, however, is staying in office until Dec. 31 to help the league in its transition period.
And while the league runs a search process for a new commissioner, Marcial runs the affair of the league as OIC.
Vargas cited Barangay Ginebra's Alfrancis Chua, Kia's Bobby Rosales, TNT KaTropa's Patrick Gregorio and Meralco's Al Panlilio for key roles they played in the resolution of the impasse.
"I'd like to thank some people who made us stronger; who never gave up when we're in crisis," said Vargas.
"Alfrancis Chua was always there looking for the solution, Bobby Rosales never gave up, Al Panlilio was always beside me as we worked for the resolution and Pato Gregorio used his magic to reach an agreement between two parties," Vargas pointed out.
On the heels of Narvasa's approval of the SMB-Kia trade that eventually sent marquee Fil-German player Christian Standhardinger to San Miguel, governors of TNT KaTropa, Meralco, NLEX, Rain or Shine, Blackwater, Alaska Milk and Phoenix Petroleum sought the commissioner's dismissal.
San Miguel Beer, Ginebra, Magnolia (Star), Kia and GlobalPort, meanwhile, dissented.
To help resolve the problem, Vargas agreed to reassume the league chairmanship he occupied in 2010.
"I guess you're wondering why I'm here. I was gone for seven years. NLEX graciously gave up its turn and swapped with TNT its turn in the succession," said Vargas.
NLEX was supposed to succeed GlobalPort.