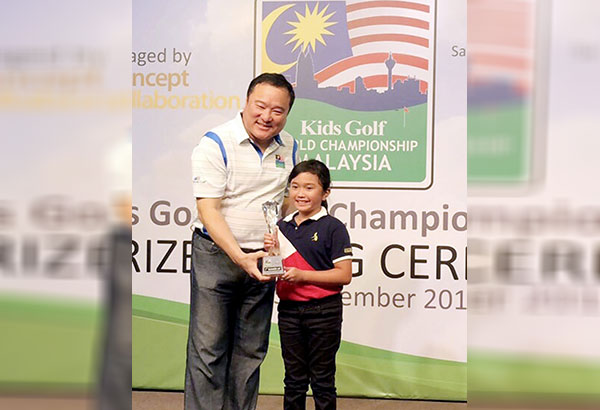 Celine Abalos beams after receiving her trophy from tournament director Benjamin Tan.
Young Abalos earns US Kids golf berth
(The Philippine Star) - December 16, 2017 - 4:00pm
MANILA, Philippines — Barely a year into international competition, Celine Abalos is now gearing up towards representing the Philippines in two of the biggest golf tournaments in the world.
With a sustained brilliance last week in the Kids Golf World Championship in Malaysia, Abalos punched a ticket to the prestigious European Championships in Scotland and the US Kids Worlds in North Carolina next season, not bad for someone who took up the game competitively nine months ago.
"We are very impressed with her progress," coach Carmelette Villaroman said of her ward, who turns nine Sunday. "She has the best attitude a coach could hope for. She is a fighter who never wants to give up."
The youngest in a brood of five of ex-Rep. Benhur Abalos and Mandaluyong Mayor Menchie, Celine finished second to seasoned Thai Namo Luangnitikul in the girls' 8-and-up division at the Straits Course of the Tanjong Puteri Resort in Malaysia to earn spot to those two elite events.
Celine shot rounds of 37, 36 and that 38, five-over in total, and lost the championship by three strokes to Luangnitikul, but Villaroman stressed the importance of marching on to the bigger events where the youngster can put her skills to the test once again.
The event drew 312 players from 26 countries counting Australia and the US.
"She wants this," Villaroman, the former Ladies Open and Philippine Ladies champ who caddied for Celine, said of the prodigious talent. "I have never asked her to train. She wants to do this and that's a big plus."