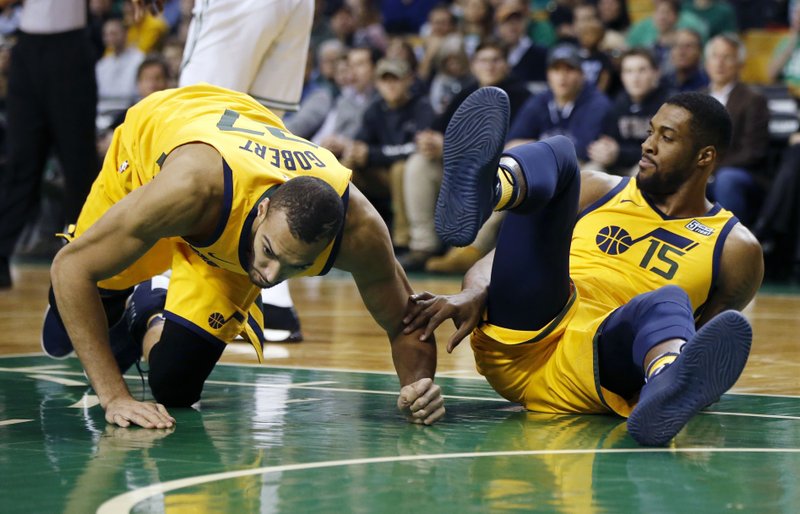 Utah Jazz's Rudy Gobert (27) kneels on the floor beside teammate Derrick Favors (15) during the first quarter of an NBA basketball game against the Boston Celtics in Boston, Friday, Dec. 15, 2017 (Saturday in Manila). Gobert left the game with a knee injury after Favors fell backward into his leg on the play. | AP Photo/Michael Dwyer
Gobert, Favors hurt in Jazz's 107-95 win over Celtics
BOSTON — The Utah Jazz broke out of a slump that has been plaguing them during their current road trip.
But it came at the cost of two of their starters — one possibly for an extended period.
Ricky Rubio had 22 points, Donovan Mitchell added 17 points, nine assists and five rebounds, and the Utah Jazz beat the Boston Celtics 107-95 on Friday night (Saturday in Manila).
Jonas Jerebko and Rodney Hood also finished with 17 points for the Jazz, who snapped a four-game losing streak. It was Utah's first victory in Boston since 2008, a span of nine games.
It took everything the Jazz had to make it to the end of the game.
Jazz center Rudy Gobert left early in the first quarter with a left knee injury after teammate Derrick Favors fell backward into his leg. Gobert was able to walk off the court on his own power, but went straight to the locker room and did not return.
The second quarter brought more injuries. First, Boston's Daniel Theis left with a facial injury. Later, the Celtics' Jaylen Brown caught Favors with an incidental elbow, leaving him bleeding from his left eye and Brown from his elbow. Favors received six stitches and did not return.
"That's a team win. Everybody stepped up," Rubio said. "We know that we have a lot of players who can play, and they were ready."
Coach Quin Snyder said Favors passed the concussion protocol. Gobert will be evaluated Saturday.
"This group's got character and they are going to compete no matter what the circumstances and they did," Snyder said.
Boston got no closer than eight points in final quarter.
Kyrie Irving led the Celtics with 33 points. Al Horford added 21 points and seven assists. Boston lost for the third time in five games.
"I gotta give Utah credit, because they grinded the game and they made tough shot after tough shot," Horford said. "They kind of, like, took the life out of you in a way."
Friday was the first meeting between the teams since Gordon Hayward left Utah in free agency last summer to join the Celtics. But Hayward could only watch as he continues to rehab from the broken left ankle he suffered in Boston's season opener.
Joe Johnson returned to game action for the first time since Oct. 30. He missed 21 straight games while dealing with a right wrist injury.