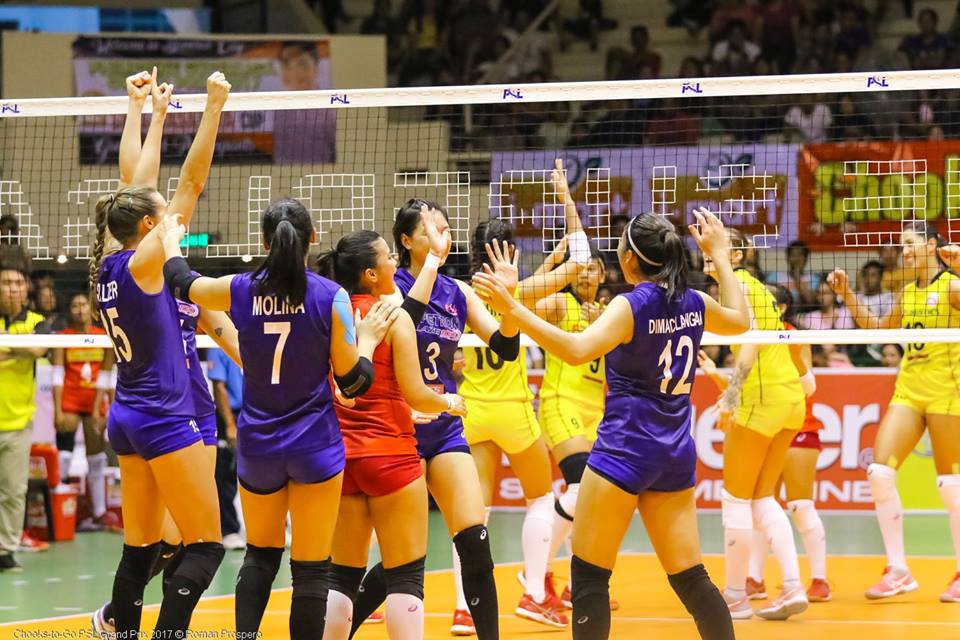 The F2 Logistics Cargo Movers prevailed over the Petron Blaze Spikers in their elimination round match in the 2017 Chooks to Go - Philippine Superliga Grand Prix. Philippine Superliga/Roman Prospero
Petron, F2 begin PSL Grand Prix title showdown
(The Philippine Star) - December 11, 2017 - 4:00pm
MANILA, Philippines — Petron and F2 Logistics clash tonight at the start of the Chooks-to-Go Philippine Superliga Grand Prix best-of-three championship at the Filoil Flying V Center in San Juan with the Blaze Spikers out to make it two-in-row over the Cargo Movers this season.
Petron toppled F2 Logistics in the recent All-Filipino Conference with the former looking sharp and ready to reassert its mastery over the latter in what promises to be a slam-bang duel of power and defense between the league's top two teams.
Gametime is at 7 p.m. after the 4:15 p.m. battle for third between Foton and Cocolife.
Petron, the 2014 champion of the import-laden conference, got back at two-time finals tormentor Foton in a grueling semifinal encounter, 30-28, 21-25, 25-23, 25-21, last Saturday to set up the finals showdown with the Cargo Movers.
F2 Logistics overwhelmed Cocolife, 25-17, 25-16, 25-17, in the other knockout semis last weekend.
Focus will also be on the two teams' reinforcements with Petron hoping to draw the best from American Lindsay Stalzer and Hillary Hurley of the US and libero Yuri Fukuda of Japan and the Cargo Movers to lean again on former Olympian Maria Jose Perez of Venezuela and American Kennedy Bryan.
"Their imports are very competitive. But we're more solid now and gained experience from our semifinal victory," said Petron coach Shaq delos Santos.
The Cargo Movers actually edged the Blaze Spikers in four in their elims face-off but the latter has come out a better team from that loss with Delos Santos noting their much-improved all-around game.
"The finals is a different story. We will do our best and we will study them well," added Delos Santos.
F2 Logistics coach Ramil de Jesus also agreed that their four-set elims win over Petron was no assurance of another dominance over the Blaze Spikers.
"It has been more than a month since we faced them so Petron already made the necessary adjustments," said De Jesus.