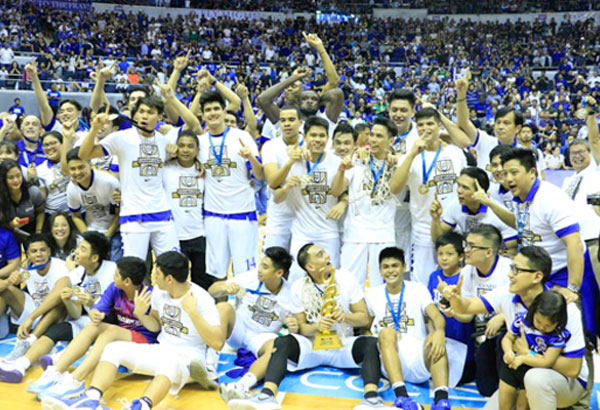 The Blue Eagles standing jubilant shorty after clinching their ninth men's basketball tournament title. | Philstar.com/Efigenio Toledo
Baldwin keeps his promise, delivers UAAP title for Ateneo
MANILA, Philippines — In 2016, Ateneo de Manila University's Tab Baldwin dodged UAAP's post-game press conferences for almost a year as if trying to send a message: He was not about the spectacle.
But following that season's Finals sweep against archrival De La Salle University, he made one — declaring that the Blue Eagles will wrest the crown from the newly minted champions.
"We shall return and be champions," Baldwin said.
A year after — his wards a couple of pounds heftier, his personnel more in synchronization as if preparing specifically for the physical and equally talented Green Archers squad — Baldwin commandeered the team into an immaculate 13-1 record. He enabled the squad to withstand the just-peaking Far Eastern University. He placed Ateneo back into the perfect spot for a counterpunch.
Sure, there's the omnipresence that is Thirdy Ravena. Sure, there's the embodiment of grit in Anton Asistio. Sure, there's killer instinct manifesting as Matt Nieto. Sure, Isaac Go may have put a different meaning in Eagles' flight when making his shots fly.
But the whole campaign, should it point to one essential cog that made it all work, must point to the team's desire "to build that Esprit de Corps."
"They say in moments like this, you think about the most important things — and I just think about how hard we've worked," Baldwin said. "When we [went] to camp in Baler, how I crucified these guys, how I put them through the worst things you can imagine."
"They just responded every step of the way and when we ran into real adversity — none bigger than that tremendous La Salle basketball team — they found a way. And a lot of it is their heart, soul and courage," he noted.
Heart, soul and courage indeed. When the Blue Eagles were pushed into the brink over and over again, they found ways to fly another game.
All about character
Baldwin's second-in-command, Sandy Arespacochaga, who filled in for the former in almost every post-game chat with the press, pointed to "character." And that had been not more evident when it all mattered: the Finals.
Before a crowd comparable to a pro-league playoff game, the Eagles flashed their resilience. A lot point to Isaac Go's clutch baskets as the turning points of Ateneo's playoff run. But they wouldn't have been possible if Matt Nieto didn't keep the opponents within striking range through his shooting; if his the former's twin brother Mike didn't give up shooting for leadership and energy from the bench; if Ravena didn't raise his intuitive game; if Asistio caved let the physicality of the game get into his head.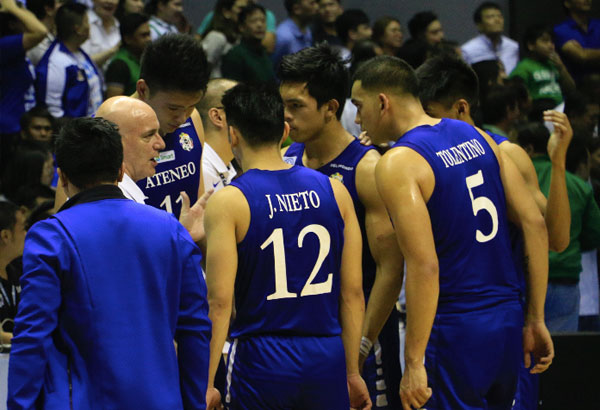 Ateneo head coach Tab Baldwin surrounded by his Blue Eagles during Game Two of the UAAP Finals. | Contributed Photo
Working like pros
Having said all that, Baldwin believes there's no way to possibly point out what's so special about the Blue Eagles.
"There's no individual that makes this team special because it just dedicated itself to hard work. I couldn't give these guys enough to do and I think that's a revelation for me — spending 35 years coaching pros, you can't ask pros what I asked these guys to do and they did it," he said.
"They did every single thing that was asked of them — and they wanted more," he added with a smile. "With these guys, what makes them special is that they made themselves special."
And that's not to take away something from the Green Archers, who also had a special season. With their center in Ben Mbala winning back-to-back Most Valuable Player awards, Ricci Rivero playing like he's a graduating cager, its troika of shooters — Andrei Caracut, Jollo Go and Aljun Melecio — figuring in the clutch, De La Salle seemed poised for a repeat.
"They never take the pressure off. You know, they're confident in their system — and that comes from Aldin. They believe in their players, they believe in their system and they're just not gonna take their foot off your throat — for one minute. And I admire that so much," Baldwin said of their rivals.
"We have been in two years in development trying to handle just (them)," he revealed. "Our weight regime in January through May this year was all centered on getting stronger just so La Salle couldn't beat us up. And, I don't say that as a criticism of La Salle, I say that as a compliment."
"We had to rise to their level. They set the bar," Baldwin noted. "Losing is always tough and I'm happy it's them not us but there's no lack of respect and admiration for who they are and what they did to get here, what they did today. They fought back again."
The big payoff
On Sunday's final dance, De La Salle displayed their own version of resilience — one that they probably have developed over the course of Season 79. They leaned on Mbala and Caracut for a last-ditch rally. But time didn't favor them.
Confetti on the floor, seats vacated, streamers rolled out, fists raised and heads held up high, it was Ateneo that emerged victorious.
"They're champions, they're still champions. You can't take that away from them," Baldwin said of their foes. "But now, so are we."