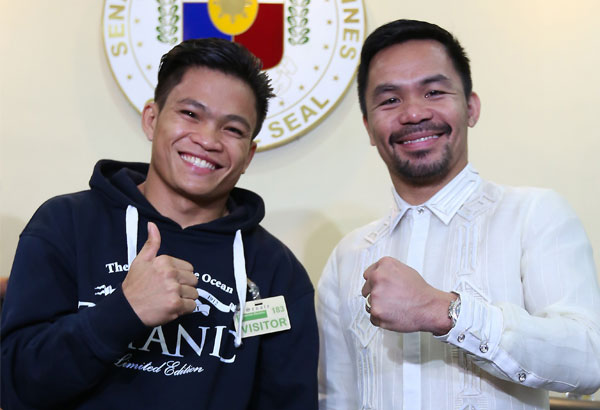 IBF super flyweight champion Jerwin Ancajas poses with Manny Pacquiao during a recent visit to the latter's Senate office. | Wendell Rupert Alinea
Ancajas the next Pacquiao, says Arum
MANILA, Philippines – It seems Top Rank Inc. Bob Arum has found the next version of Manny Pacquiao.
Arum said he has recruited and current IBF super flyweight champion Jerwin Ancajas into the Top Rank stable and is ready to showcase the Filipino rising star.
"He is going to become a Top Rank fighter," Bob Arum recently told Steve Kim of boxingscene.com.
The 25-year-old Ancajas is coming off an impressive TKO win over Irish Jamie Conlan last November 18 in Belfast, Ireland to defend his title.
Now, Arum wants to keep Ancajas as busy as possible and give him a wider exposure.
"We're going to fight him at least three or four times a year," the veteran promoter added.
Arum's hopes are so high on Ancajas that he sees the Cavite-based fighter as the next face of Philippine boxing.
"We call him the 'Next Manny Pacquiao," he added.
Ancajas (28-1, with 19 KOs), who also fights under Pacquiao's MP Promotions, will return in February next year, according to Arum.