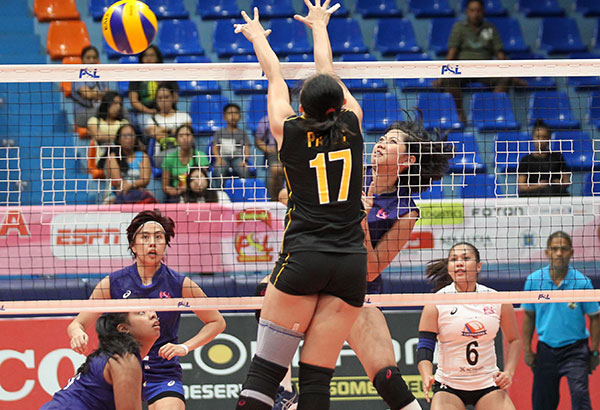 Victoria-UST's Shannen Palec foils Generika-Ayala's Chlodia Cortez's attack during their Superliga Grand Prix clash in San Juan. Jun Mendoza
Lifesavers turn back Tigresses, bolster PSL bid
Games tomorrow
4:15 p.m. – Iriga City vs Victoria Sports-UST
7 p.m. – Cignal HD vs Sta. Lucia
MANILA, Philippines — Generika-Ayala withstood Victoria Sports-UST's tough stand in the third set as it fashioned out a 25-16, 25-19, 25-23 victory yesterday to wheel back into contention in the Chooks-to-Go Philippine Superliga Grand Prix at the Filoil Flying V Center in San Juan.
Croatian Katarina Pilepic and Trinidad and Tobago national team member Darlene Ramdin stepped up late in the third to rally past the guest team in a back-and-forth finish to complete the straight-set victory and move to fifth with a 3-4 card.
The victory also made up for Generika-Ayala's loss to unbeaten F2 Logistics the last time out.
"We still need to step up. Although I saw how they played well, they still have a tendency to relax at the end of the set. We should also minimize our errors," said Lifesavers coach Francis Vicente.
The Tigresses battled back from an early four point-deficit in the third and grabbed a 12-10 lead behind the combined efforts of Carla Sandoval, hard-hitting Dimdim Pacres, skipper Shannen Palec and Christine Francisco. They held sway at 18-16 before Ramdin unleashed back-to-back kills to pull Generika level.
Pilepic then joined the fray, teaming up with Ramdin as they traded hits with Sandoval, Francisco and Pacres in a thrilling finish with the Lifesavers barely pulling through on a hit by Pilepic and a costly attack error by Pacres that struck the net.
Pilepic rifled in 22 points on 18 hits, two blocks and two aces, Chloe Cortez added nine markers while Ramdin, who came off the bench in all three sets to give the locals a chance to strut their wares, had six all on attacks for the Lifesavers.
Pacres led Victoria Sports-UST with 10 points, Francisco came up with eight markers, Sandoval came through with seven hits while Palec and lone import Yukie Inamasu of Japan had five points apiece.
The Tigresses fell to 0-5.
With the win, the Lifesavers could avoid powerhouse teams Petron, F2 Logistics and two-time champion Foton in the sudden-death quarterfinal set on Dec. 5.
"Our goal is to aim high," said Vicente, whose wards will enter their final elimination round game against Sta. Lucia Realty oozing with confidence.
"Whatever the result will be, we will just prepare whoever will be our opponent in the quarterfinals," he added.
A recruit from Croatia, Pilepic knocked down 18 kills, two blocks and two aces for a game-high 22 points while Chloe Cortez delivered nine points for the Lifesavers, who opted to give Darlene Ramdin a rest and the locals the chance to prove their worth.
Ramdin, a Trinidad and Tobago national team member, saw very limited action to finish with only six points as Angeli Araneta and Shaya Adorador played longer minutes at the wing spots.