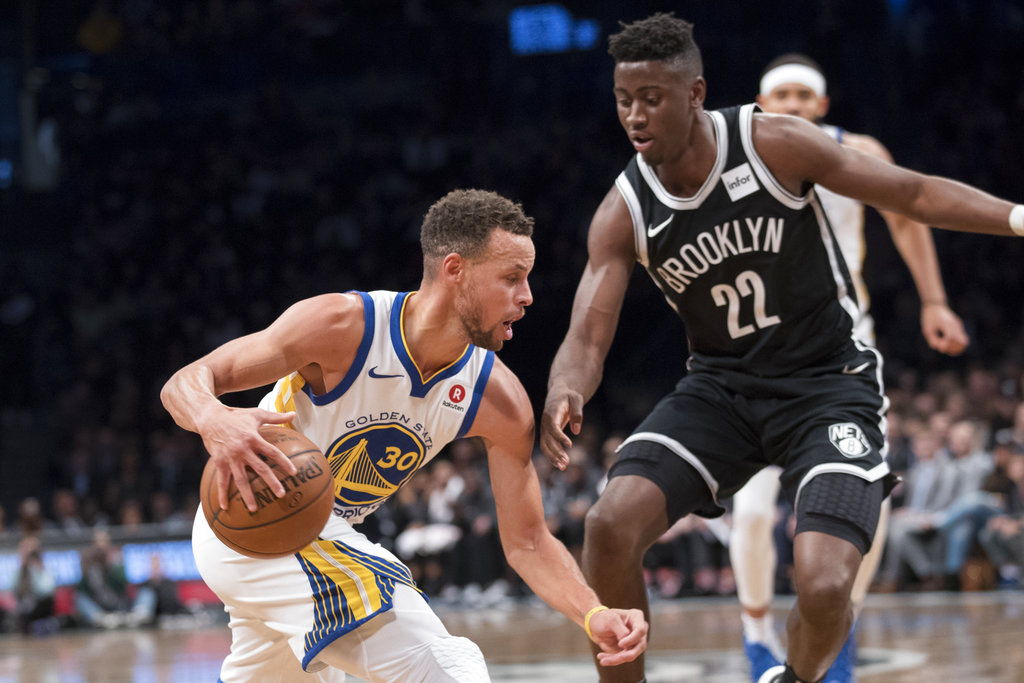 Golden State Warriors guard Stephen Curry (30) drives to the basket against Brooklyn Nets guard Caris LeVert (22) during the first half of an NBA basketball game, Sunday, Nov. 19, 2017, in New York. | AP Photo/Mary Altaffer
Stephen Curry has 39 points, 11 rebounds; Warriors beat Nets
(Associated Press) - November 20, 2017 - 3:53am
NEW YORK — Stephen Curry had season highs with 39 points and 11 rebounds, and the Golden State Warriors held on after he fouled out to beat the Brooklyn Nets 118-111 on Sunday night (Monday in Manila).
A night after erasing a 22-point halftime deficit in Philadelphia, the Warriors built a 22-point cushion after two quarters behind 22 points from Curry. Playing without Kevin Durant, they led by 28 in the third quarter but Brooklyn cut it all the way to four after Curry picked up his sixth foul with three minutes remaining.
Klay Thompson then scored seven of his 23 points in the final two minutes.
Durant was out with a sprained left ankle, giving him extra rest before Golden State wraps up its four-game trip at Oklahoma City on Wednesday night in his former home arena. Omri Casspi started in his place and had 12 points and eight rebounds.
Allen Crabbe scored 25 points, and Spencer Dinwiddie had 21 points and eight assists for the Nets.
The Warriors trailed 74-52 at halftime in Philadelphia on Saturday before scoring 47 points in the third quarter and winning 124-116. Curry appeared determined to get Golden State going quickly Sunday, scoring 13 points while playing all 12 minutes in the first quarter.
PACERS 120, HEAT 95
MIAMI (AP) — Bojan Bogdanovic scored 26 points, Myles Turner added 25 and Indiana embarrassed Miami Heat in the second half.
Turner made 11 of 14 shots for the Pacers, who won their third straight game overall and got their first win in Miami since Nov. 12, 2014. Each of the last 11 regular-season games in the series were won by the home team, until the Pacers emphatically changed that in this one.
Victor Oladipo scored 15, Darren Collison had 12 points and 10 assists and Thaddeus Young added 12 for Indiana. The Pacers outscored Miami 69-40 in the game's final 25 minutes and shot 60 percent for the game.
Wayne Ellington scored 21 points, all of them coming on 3-pointers, for the Heat. Josh Richardson and Hassan Whiteside each scored 15 and James Johnson added 10 for the Heat.
Dion Waiters was scoreless for Miami, missing all 10 of his shots. Miami's starters were outscored by Indiana's 90-44.
RAPTORS 100, WIZARDS 91
TORONTO (AP) — DeMar DeRoan scored 33 points, C.J. Miles had 12 and Toronto beat Washington to avenge its only home loss of the season.
Kyle Lowry and Fred VanVleet each scored 10 points and Serge Ibaka had nine points and eight rebounds. Toronto won its season-high fourth straight and improved to 6-1 at home.
Wizards guard John Wall didn't play because of a sore left knee, but coach Scott Brooks said there's a "great chance" the four-time All-Star will return Monday night at Milwaukee.
Bradley Beal scored 27 points, and Marcin Gortat had 12 points and 12 rebounds for Washington. The Wizards lost their second straight following a season-best four-game winning streak.
PISTONS 100, TIMBERWOLVES 97
MINNEAPOLIS (AP) — Andre Drummond had 20 points and 16 rebounds, Tobias Harris and Avery Bradley added 18 points each and Detroit outlasted Minnesota.
Harris hit two free throws with 3.3 seconds remaining, and Jimmy Butler's last-second 3-point attempt rattled out to draw a loud groan from the crowd as the Pistons snapped their two-game skid and Minnesota's three-game streak.
Butler led the Wolves with 26 points and 10 rebounds, and Andrew Wiggins had 24.
SUNS 113, BULLS 105
PHOENIX (AP) — T.J. Warren scored 27 points to lead six Phoenix players in double figures and the Suns handed Chicago its sixth loss in seven games.
Rookie Lauri Markkanen, the former University of Arizona standout, scored a career-best 26 points for the Bulls in a matchup of the NBA's two youngest teams.
Devin Booker and Mike James added 15 points apiece for Phoenix. Eight of James' points came in the final 10 minutes. Troy Daniels added 14 for the Suns, including four of seven 3s.