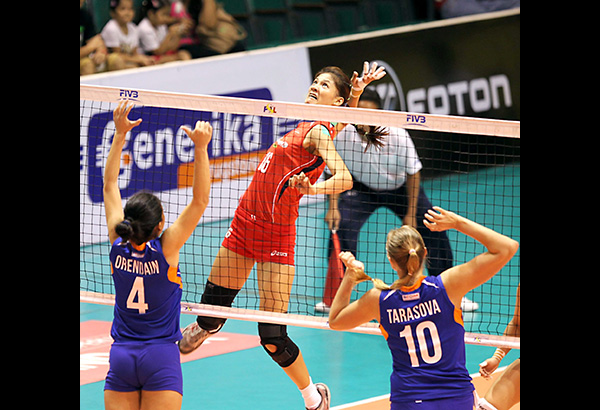 In this file photo, Santiago-Manabat, who was playing for Petron, goes for a kill against Foton. In the 2016 Philippine Super Liga Grand Prix.
Dindin Santiago-Manabat 'on track' for PSL comeback
(philstar.com) - November 15, 2017 - 4:14am
MANILA, Philippines – Do not be surprised if Dindin Santiago-Manabat makes a grand comeback one of these days.
Foton team manager Diane Santiago revealed that the recovery of her sister is on track, giving her a good chance of seeing action in the ongoing Chooks to Go-Philippine Superliga (PSL) Grand Prix.
Santiago said Manabat is already in good shape after suffering an anterior cruciate ligament (ACL) injury in the All-Filipino Conference early this year.
In fact, they are just waiting for the clearance from Dr. Raul Canlas before she could formally perform all the drills and exercises of Foton's Serbian coach Moro Branislav.
"She already started training with the team," said Santiago, adding that they are still taking Manabat's situation with extreme caution.
"Pero ayaw pa din naman namin siya biglain. We are just waiting for Dr. Canlas' clearance before she could perform all drills in training. She's already in good shape."
In Foton's previous match against rival Petron, Manabat's absence was very obvious.
The Tornadoes, in fact, struggled defensively as they failed to neutralize the attacks of American imports Lindsay Stalzer and Hillary Hurley, who finished with 23 and 20 points, respectively.
Although Foton's reinforcement in Sara Klisura erupted for 29 points, it was still wasn't enough as the Blaze Spikers completely overpowered the Tornadoes in four sets, 25-21, 25-22, 25-12, 25-20, in what was harped as a possible championship preview of the season-ending conference.
Manabat stressed that she was eager to lift up her team.
"As a player, gusting-gusto ko na makapasok sa game," she said. "Gusto kong maglaro, gusto ko silang tulungan pero dahil hindi ko pa magagawa yun, sa ibang bagay na lang ako bumabawi like i-cheer at i-lift up sila."
But Santiago said it's just a matter of time before Branislav will field his most reliable middle blocker.
And they hope that it would be sooner than expected.
"We will see if coach Moro will use her one of these days," she said. "But we're glad over the progress of her recovery."