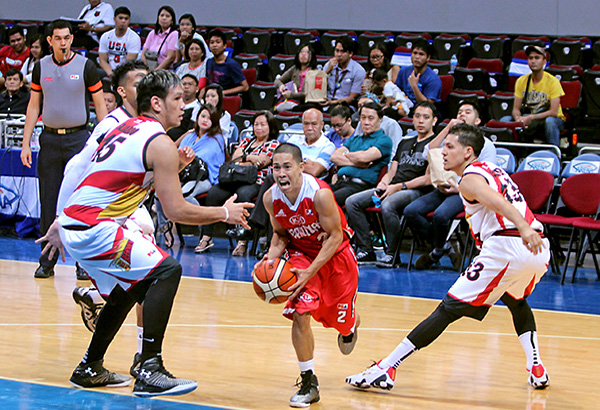 LA Revilla in action for Kia in this file photo. | PBA Images
Revilla, Kia bury hatchet amid trade to Phoenix
LOS ANGELES – A few hours before leaving this vibrant city, Kia top official Bobby Rosales got rid of LA Revilla, dealing him to Phoenix Petroleum for a song.
"We could've held on to him but we decided not to make things tough for him," said Rosales after trading Revilla to the Fuel Masters for 2017 second-round draft choice Jason Grimaldo plus a future second-round pick.
Rosales struck the deal with Phoenix counterpart Raymond Zorrilla in an overseas call.
Revilla, the top player of Kia in its first three seasons in the PBA, will rotate with RJ Jazul and Gelo Alolino at point guard spot at Phoenix.
But the former La Salle playmaker made amends with the Picanto camp before moving over to Phoenix.
"He talked to (team manager) Joe (Lipa), apologizing then saying his thanks," said Rosales.
Revilla disappointed the Kia Picanto management on the controversial tweet made with regards the team's decision to trade the season's No. 1 overall pick to San Miguel Beer.
"Kung magpapalusot man lang sana ginandahan niyo na ang rason. Hindi talaga eh. Bagsak kayo sigurado kung may lie detector," said Revilla, on his Twitter account at the height of the trade talk that was to send Christian Standhardinger over to San Miguel Beer.
Hurt by Revilla's remarks, the team decided to put the player in the freezer.
Rosales said then that Revilla was free to look for a taker even as he's still under contract with Kia for the next two years.
"We're really disappointed. We gave him a break and he's the face of Kia, then….," said Rosales.