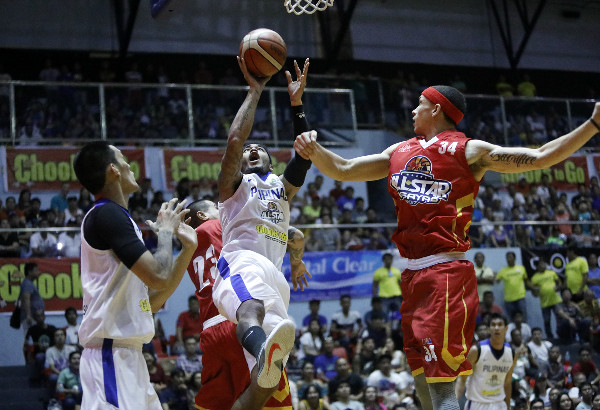 Calvin Abueva (middle) during the last leg of the PBA All Star week in Cebu City last April. | PBA Media Bureau
Luzon-Visayas-Mindanao PBA All-Star series up
LOS ANGELES – Taking the cue from last season, the Philippine Basketball Association is again going on an island-hopping journey to showcase its annual mid-season spectacle — the All-Star Game — to cage fans in Luzon, Visayas and Mindanao.
The PBA is also considering another simultaneous opening games to be played in the country's three major islands — a novel season inaugurals the league tried once in 2014.
Approved in principle is another three-leg All-Star event coming in the heels of the successful 2017 All-Star extravaganza with stops in Cagayan de Oro, Lapu-Lapu City and Lucena.
This time, the PBA is playing the Luzon game in Batangas and the Mindanao tiff in Davao. Still up for bidding is the hosting right for the Visayas.
"Also still uncertain is the format of the All-Star Game," said PBA director for external affairs Willie Marcial.
Last year, the PBA again veered away from the regular North versus South format, instead pitting Gilas Pilipinas against PBA All Stars from Mindanao, the Visayas and Luzon in three separate matches.
"The members of the PBA board were all happy with the turnout of each game, thus, they want another Luzon-Visayas-Mindanao series," Marcial said.
Still to be discussed is the feasibility of separate games in Luzon, Visayas and Mindanao to open PBA Season 43 on December 17.
For sure, it's not simple as it requires much logistics.
Under the term of Meralco's Mon Segismundo as board chair, the PBA dared doing the innovative program in 2014, holding separate opening games in Cebu, Davao and at the Smart Araneta Coliseum.
Six teams, with their muses, paraded at the Big Dome, two at the New Cebu Coliseum and two in Davao. The Big Dome served as the main venue where the board chair declared the season open.
Before their US travel, the board has also approved to readopt the exciting calendar in the past season that culminated with the Governors Cup finale played before record crowds at the Philippine Arena.
The local pro league is reimplementing the same exciting formats used last season where San Miguel Beer emerged as the Philippine Cup and Commissioner's Cup champ while Barangay Ginebra came through with a successful title defense in the Governors Cup.
All three tourneys feature a single-round-robin elimination phase, with the best eight teams advancing to the playoffs. Thus each team will be playing a minimum of 33 games in the season.
In the all-Filipino and in the Commissioner's Cup, the Top Two gain a twice-to-beat advantage versus the bottom two in the quarters. The four middle teams, meanwhile, figure in a pair of best-of-three quarterfinals showdowns.
In the Governors Cup, the Top Four will all enjoy a twice-to-beat advantage in the quarterfinals versus the next four. It's No. 1 versus No. 8, No. 2 opposite No. 7, No.3 against No. 6 and No. 4 versus No. 5.