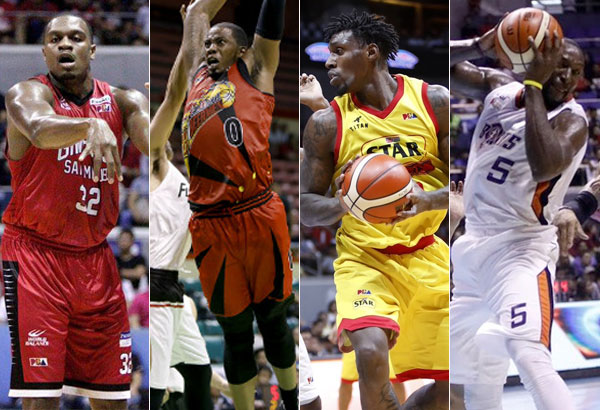 Justin Brownlee, Charles Rhodes, Ricardo Ratliffe and Allen Durham | PBA Images
PBA paves way for return of old topnotch imports
LOS ANGELES – Topnotch imports Justin Brownlee, Charles Rhodes, Ricardo Ratliffe and Allen Durham are likely to take their act in the PBA yet again in the coming season as the league board has decided to readopt its 2016-17 schemes for the 43rd PBA season set to begin December 17.
The board paved the way for the possible return of other PBA regulars Henry Walker and Eugene Phelps as they kept at 6-foot-10 the height ceiling for the Governors Cup imports and at 6-foot-5 the height limit for the Commissioner's Cup reinforcements.
The local pro league is also implementing the same exciting formats used last season where San Miguel Beer emerged as the Philippine Cup and Commissioner's Cup champ while Barangay Ginebra came through with a successful title defense in the Governors Cup.
This measure was resolved in the last PBA regular board meeting in Manila.
Still uncertain is whether the PBA Governors will be able push through with its set planning session at the Sofitel Hotel in Los Angeles here on Tuesday.
With many resolutions yet to be resolved, some governors are now bracing for the possible postponement of the coming season.
"We're bracing for the worst, and that's the moving of the opening," said one governor, unhappy the board remaining divided on the status of commissioner Chito Narvasa.
Ready for reimplementation is their tested three-conference calendar with its exciting tournament formats.
All three tourneys feature a single-round-robin elimination phase, with the best eight teams advancing to the playoffs. Thus each team will be playing a minimum of 33 games in the season.
In the all-Filipino and in the Commissioner's Cup, the Top Two gain a twice-to-beat advantage versus the bottom two in the quarters. The four middle teams, meanwhile, figure in a pair of best-of-three quarterfinals showdowns.
In the Governors Cup, the Top Four will all enjoy a twice-to-beat advantage in the quarterfinals versus the next four. It's No. 1 versus No. 8, No. 2 opposite No. 7, No.3 against No. 6 and No. 4 versus No. 5.
The Gin Kings are likely to play Brownlee in both the Commissioner's Cup and in the Governors Cup like they did last season.
Meanwhile, San Miguel and Star are likely to bring back Rhodes and Ratliffe in the second conference while Meralco could lean on Durham again in the Governors Cup.
Rhodes and Durham emerged as the Best Imports in the Commissioner's Cup and Governors Cup, respectively, in PBA Season 42.