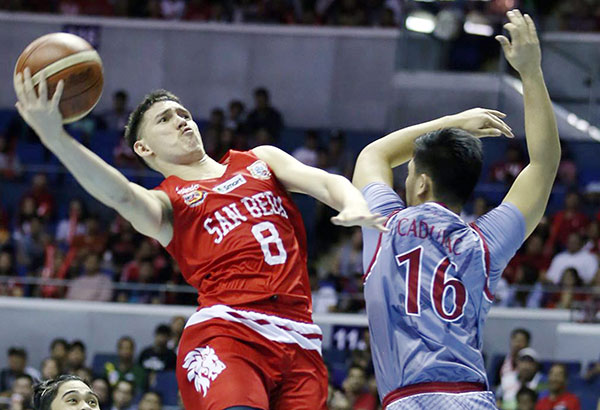 San Beda's Robert Bolick (left) pulls off a tough shot against Reymar Caduyac of Lyceum in one of his highlight plays that powered the Lions past the erstwhile unbeaten Pirates. Joey Mendoza
Abac Cordero
(The Philippine Star) - November 10, 2017 - 4:00pm
Lions halt Pirates thru Mr Clutch in Game One
Games Thursday (Smart Araneta Coliseum)
1 p.m. – Mapua vs La Salle Greenhills (Jrs)
3:30 p.m. – San Beda vs Lyceum (Srs)
MANILA, Philippines — Robert Bolick's big baskets late in the game last night pushed San Beda one win away from the title and ended Lyceum of the Philippines U's magical run in the 93rd NCAA season.
The Red Lions won Game 1 of the best-of-three finals, 94-87, against the team that was not supposed to lose following an 18-game sweep of the elimination round.
San Beda, the reigning champions, banked on their championship experience to outlast LPU and will shoot for their 10th title in the last 12 years and 21st overall on Thursday.
Bolick scored nine of his team's last 11 points in the final 1:28, highlighted by a triple that made it 86-82 and had the dominant San Beda crowd exploding at the Smart Araneta Coliseum.
His final point in the game, from a free throw, made it 92-87 for San Beda with only 15.4 seconds left. PBA-bound Davon Potts, who hit four triples, pegged the final score with two charites of his own.
It was a come-from-behind win for the Red Lions, who trailed 45-57, in the third period.
Coach Boyet Fernandez said the job isn't finished.
"It's not yet over. We still need to win one more game," he said inside the press room.
A couple days ago, Fernandez insisted that they're the underdogs, and said despite last night's victory that they remain as such.
"Yes, we're still the underdogs.
We just won one game. They're just 18-1 (this season)," said Fernandez.
Bolick, who hit a basket from close to 80 feet against San Sebastian last Tuesday, was on the verge of tears during the post-game interview, and spoke of how difficult it is to get by the Pirates' defense.
"Ang hirap (It was tough)," he said.
With each basket that Bolick hit in the dying seconds, the San Beda crowd that almost packed the stands erupted like they were home.
Lyceum coach Topex Robinson took the loss in stride. Or at least he tried.
"We lost to a better team. It's my fault. I made some bad decisions. Bad coaching. I'll be a better coach next time," he said.
Robinson did not describe how it felt and what it looked like inside the Lyceum lockerroom after they taste their first defeat since the season began last July 8.
"It's not like somebody died. Life goes on," he said.
CJ Perez, as expected, led the Pirates with 25 points, followed by Mike Nzeusseu with 14. The Marcelino twins, Jayvee and Jaycee, also had their moments on the floor.
If Robinson took responsibility for the loss, Fernandez refused to take all the credit for the win.
"It was my boys who stepped up. They never gave up," said Fernandez.
From 28-all, the Pirates in their gray uniforms tried to break loose, unloading an 11-0 run triggered by Nzeusseu's three-pointer.
But the Red Lions refused to fold and answered with five quick points to make it 33-39, and then merely traded baskets with LPU to trail 45-50 at the end of the first half.
San Beda shot better in the first 20 minutes of play, making 16-of-30 shots against LPU's 21-of-43 clip. The Red Lions also had more rebounds, 20-17, more blocks, 4-0, but committed more turnovers, 14-6.
It was tight first half.
In the juniors division, La Salle Greenhills drew first blood against defending champion Mapua, 74-68, and could clinch its first NCAA crown.
The scores:
San Beda 94 – Tankoua 27, Bolick 24, Potts 15, Mocon 11, Soberano 9, Tongco 4, Doliguez 2, Noah 2, Abuda 0, Presbitero 0, Adamos 0
Lyceum 87 – Perez 25, Nzeusseu 14, Ayaay 11, Caduyac 9, Marcelino JV 8, Marcelino JC 6, Ibañez 6, Santos 5, Pretta 3, Serrano 0, Baltazar 0
Quarterscores: 22-21; 45-50; 64-64; 94-87