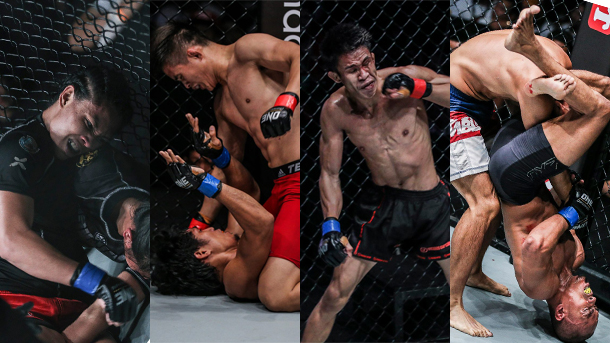 From left: Jomary Torres, the victorious and lone Filipina in the contingent; Eugene Toquero, Jeremy Miado and Burn Soriano who were unable to snare a win in the Myanmar card. | ONE Championship Photos
Torres lone bright spot for Filipinos in ONE Myanmar card
MANILA, Philippines — Call her wonder woman.

Jomary Torres kept her winning streak alive as she became the only Filipino to triumph in ONE Championship's "Hero's Dream" in Yangon, Myanmar, Friday night.

Torres, a native of Zamboanga del Norte, defeated Indonesian grappler Nita Dea via unanimous decision in the curtain-raiser of the event at the Thuwanna Indoor Stadium.

The Filipina utilized her power and speed to keep Dea defending. The former then unleashed a volley of strikes on the third frame to finally earn the nods of the judges.

"My cup now overflows with blessing. Everything is still surreal to me. I guess this is what happens when you dedicate yourself to your craft. This victory is so sweet. I am excited about how the future will unfold as I continue my career," Torres offered.

"For sure, I will be back in the gym immediately. I am ready to climb the ladder and face the biggest names,"she added.

Eugene Toquero, Jeremy miado and Burn Soriano, on the other hand, suffered losses later in the showpiece.

Toquero, a 38-year-old fighter who was looking to arrest a four-match skid, submitted to Chinese Ma Hao Bin via armbar at the 4:51 marker of the first round.
Fighting an aggressive foe, Miado tried to take the fight into the ground. But the Filipino fighter was simply no match in grappling against his Thai foe as he verbally tapped out in the second period.

Soriano, too, didn't go the distance as he fell prey midway the fight against another Chinese in Chen Lei.

"We win some, we lose some. I did sport my best foot in the match, but Ma Hao Bin is a flyweight prospect for a reason," Toquero noted.

"We never lose. It's either we win or we learn. My match against [was] a learning process for me and my team," offered Soriano.

Toquero is now holding a record of eight wins and five losses while Soriano has six wins and three losses. Miado, for his part, dropped to six wins in eight matches.

Torres, who shocked the world in Macau by easily dispatching crowd favorite Rika Ishige, has compiled three straight wins professionally. The prospect has now won two under the ONE banner.

"I want to give back to my gym and the people who love and support me. I am competing for my country. Everything I do is for all of them and as long as I can do this, I will keep doing this," she closed.