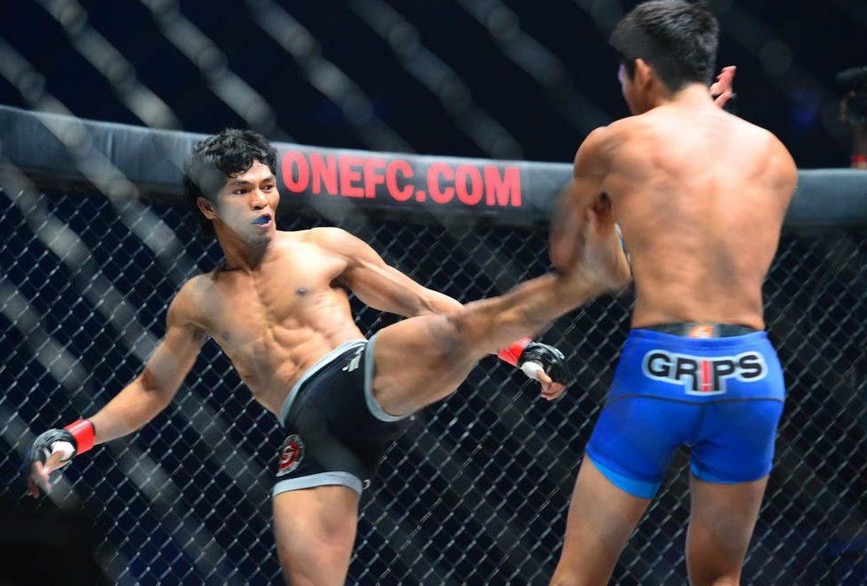 Eugene Toquero tags his foe with a kick | ONE Championship
Toquero eyes to end ONE slump, tests Chinese foe in Myanmar card
(philstar.com) - November 3, 2017 - 8:00am
MANILA, Philippines — Eugene Toquero will be making his 14th trip to the cage as a professional mixed martial arts competitor Friday night, and he will be doing so in front of a passionate crowd in Yangon, Myanmar.

But raising his hands in triumph has been an elusive moment for the Filipino.

As he desires to place himself back on the winning track at the Thuwunna Indoor Stadium in ONE Championship's "Hero's Dream," he stressed that he has made some crucial adjustments to his preparation.

"I have made other adjustments. I train longer and harder now. I don't want to be complacent because I am not getting any younger. This is a huge organization with a lot of very good martial artists from all over the world," he said.

"I will give my best in this bout. I will leave everything on the line," Toquero declared.

The 38-year-old fighter is currently touting a 8-5-0, and has been reeling from a three-fight skid.

But Toquero is confident that if his Chinese foe takes him lightly, he will get to arrest that dry spell.

"If my opponent did not train well, then I will eat him alive inside the cage. I am hungry for that win," he said.

The man standing in his bid for redemption is Ma, who has strung together an impressive 7-1 professional record that includes three wins by submission and one by knockout.

In Ma's latest outing, he submitted Hexi Getu in their flyweight affair in Shanghai last September via guillotine choke with ten seconds remaining in round number two.

Toquero though, hopes that his experience will pay dividends when they meet across the cage, but he won't be paying too much attention to his adversary's game plan.

According to Toquero, the key to victory is in focusing on himself and making his A-game the priority.

"I never study my opponents. I do not care who they are because in Muay Thai and my amateur fights we never knew who our opponents were. We train in the gym and enhance our strengths," he shared.

With a fresh outlook and his back against the wall, Toquero is driven to break his losing spell and redeem his status as one of the most exciting flyweights in the Asian region.

"This time, l will make sure that my hand is raised as the winner. I am not going home with a loss," he closed.