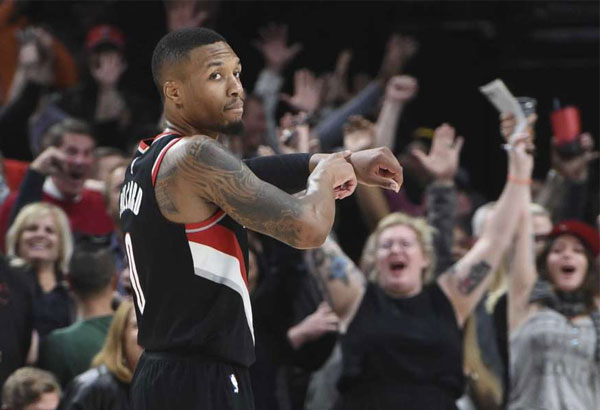 Portland Trail Blazers guard Damian Lillard reacts after hitting a shot in the final seconds of an NBA basketball game against the Los Angeles Lakers in Portland, Ore., Thursday, Nov. 2, 2017. The Blazers won 113-110. | AP Photo/Steve Dykes
Lillard hits game-winning trey as Blazers squeak past Lakers
PORTLAND, Ore. — Damian Lillard made a 3-pointer with 0.7 seconds left and the Portland Trail Blazers extended their winning streak over the Los Angeles Lakers to 13 games with a 113-110 victory on Thursday night (Friday Manila time).
Lillard finished with 32 points, and Portland snapped a two-game skid. Jusuf Nurkic added 28 points for Portland.
Brook Lopez had 27 points and rookie Kyle Kuzma added a season-high 22 for the Lakers, who were short-handed after Larry Nance Jr. injured his left hand in the second half. Fellow rookie Lonzo Ball was 0 for 2 from the field with no points, four assists and three rebounds.
There were a few fans in the crowd at Moda Center wearing Ball's No. 2 jersey for his first appearance in Portland. But most fans booed him heartily during player introductions.
Nance was hurt late in the third quarter and went to the locker room. He did not play the rest of the way. Nance was averaging 11.1 points and 7.9 rebounds for the Lakers.
Portland took a 106-105 lead on Lillard's free throws with 1:56 left. Kuzma made a hook shot on the other end, but Lillard answered with a layup before Nurkic made free throws for a 110-107 lead. The standing crowd chanted "Beat LA!"
But Kentavious Caldwell-Pope quieted the fans with a 3-pointer off an assist from Ball to tie it with 15.5 seconds left. Lillard hit the winner over the outstretched arm of Brandon Ingram after letting some time run off the clock. To the roar of the crowd, Lillard pointed to his wrist to indicate "Lillard Time."
Portland was playing the second of a back-to-back. The Blazers lost 112-103 in overtime to the Jazz in Utah on Wednesday night.
The Blazers were without Al-Farouq Aminu, who injured his right ankle on Wednesday night against the Jazz. The team posted a photo of the 6-foot-9 forward on crutches before Thursday's game.
Aminu was averaging 9.4 points and 8.1 rebounds this season. Noah Vonleh, who returned the night before following a shoulder injury in camp, started in his place.
The Blazers took a 35-23 lead late in the first quarter on Pat Connaughton's 3-pointer. McCollum had 13 points in the period, including 3-of-4 shooting from deep, and Portland led by as many as 18 points.
Kuzma sparked the Lakers off the bench with 11 points in 13 minutes, and the Lakers closed the gap to 66-62 at halftime.
The Lakers were coming off a 113-93 victory at home against the Pistons on Tuesday night.