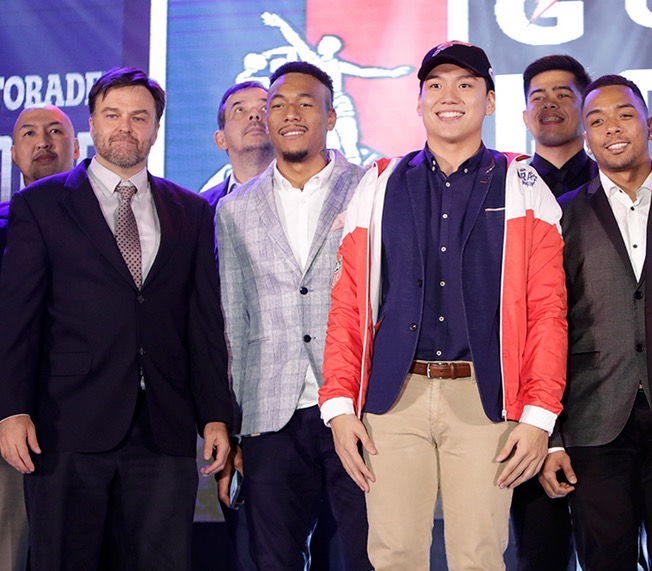 From left: Alaska Aces head coach Alex Compton, team manager and governor Dicky Bachmann (partly seen), Calvin Abueva, draftee Jeron Teng, Carl Bryan Cruz (back) and Chris Exciminiano during the 2017 PBA Rookie Draft last Sunday. | PBA Images
Jeron Teng says being drafted later than expected doesn't matter
MANILA, Philippines — Nobody expected Jeron Teng's stock to dip on Sunday's PBA Draft.

When his name was called in the annual selection at Robinson's Place in Manila, longtime De La Salle University teammate Jason Perkins was already drafted ahead of him.

But he couldn't care less. Call it a blessing in disguise, but falling to number five proved to be Teng hitting two birds with one stone.

"It [didn't] matter to me," the two-time UAAP champion said. "Ito talaga dream ko, maging PBA [player]. Ever since noong bata ako ?— masundan 'yung footsteps ng dad ko. It didn't matter for me kung anong pick ako and happy lang ako na natawag yung name ko and happy ako na napunta ako sa team na maganda 'yung reputation."

Teng was selected fifth overall by the Alaska Aces — one of the handful independent teams in the PBA that touts a winning history.

"Lahat nagsasabi sa akin na in Alaska, they treat all the players as family. I'm very happy na maging part ako ng family ng Alaska," he said.

And as far as becoming part of a family is concerned, the incoming freshman is definitely going to get just that, as he will be joining a crew which took care of his father when he was still playing in the PBA.

Teng's father Alvin, a former Defensive Player of the Year awardee, capped off an illustrious 16-year career with the Aces in 2002. That squad, which was then mentored by the equally distinguished Tim Cone, would go to the Finals twice in the season.

But despite the ties that would definitely bind, the younger Teng knows he still have to prove his worth, especially with Calvin Abueva, Carl Bryan Cruz and Chris Banchero on board.

"I'm up for the challenge. Alam ko na syempre PBA level na 'to," he said. "I have to start from zero. Syempre mag-start ako sa pinakababa and I have to work for my minutes. If I have to, then I'll do it, I'll work hard even more."

"Gusto ko talaga i-prove sa sarili ko dito sa PBA and that's what I'll do. I'll put more work into it," the two-time UAAP Finals MVP added and multi-time national team member added.

"I've known Jeron since high school," said head coach Alex Compton. "We had him in our program the NBTC. Ever since, iba ang level ng physicality niya, 'yung strength niya, 'yung ability to get to the basket."

"He's got a really unique game. he's a different kind of player in a very good way. I think that gives him an ability to really change the game," Compton added.

"Now. of course, he's gonna be a rookie and [while] it's not on his shoulders to carry us, I really think he can change the game in an immediate impact," the tactician closed.

Compton will get to know if Teng is really what he thinks him to be when the new season kicks off on December 17.