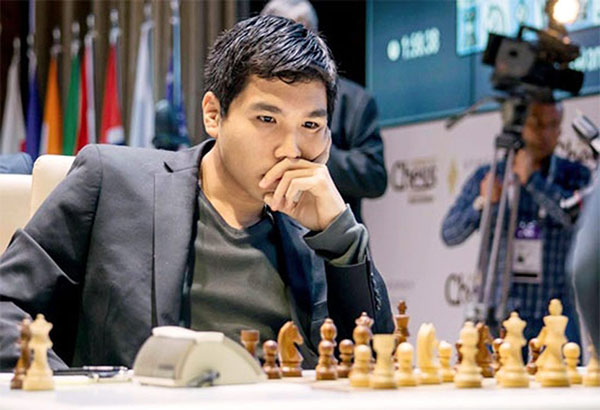 So resumes quest for world title, enters Candidate Tournament
MANILA, Philippines – Wesley So has been dreaming of becoming world champion. He will get his chance.
So, 24, has made it via the backdoor to the Candidate Tournament, the last step toward gaining a crack at the world chess title currently held by Magnus Carlsen of Norway, slated from March 10-28 next year in Berlin, Germany.
Born in the Philippines but representing the United States, the Minnetonka, Minnesota-based So advanced in the final World Championship Cycle phase along with US Olympiad teammate Fabiano Caruana after getting the highest average rating of all 12 wood pushers in the wait list who did not qualify via the direct qualification routes like the World Cup and FIDE Grand Prix.
So and Caruana were actually battling for the two slots with Russian Vladimir Kramnik, a former World Champion, but got the automatic slots after the latter was named a wild card candidate by the organizers.
They will join Russia's Sergey Karjakin, who made it through for being the losing finalist to Carlsen in their world title clash two years ago, World Cup champion Levon Aronian of Armenia and runner-up Ding Liren of China.
The remaining two players will be the best two performers among Shakhriyar Mamedyarov and Reimour Radjabov of Azerbaijan, Alexander Grischuk of Russia and Maxime Vachier-Lagrave of France in the ongoing FIDE Grand Prix.
The winner of this 18-day tournament, which will use a double-robin format where in each participant will get to face each other twice, will emerge the challenger to Carlsen in the 12-game World Championship set at a still unspecified venue next year.
Reports have it that the championship venue could be one among Japan, Singapore, South Korea or London.
Carlsen needed four tiebreak games with shorter time control to beat Karjakin and retain his title.
In his quest to become world champion, So has left the Philippines for the US where he improved significantly that he made it to as high as No. 2 in the FIDE World Rankings although he has slipped a bit recently down to six with a live rating of 2793.
Now he's within reach of his dream.