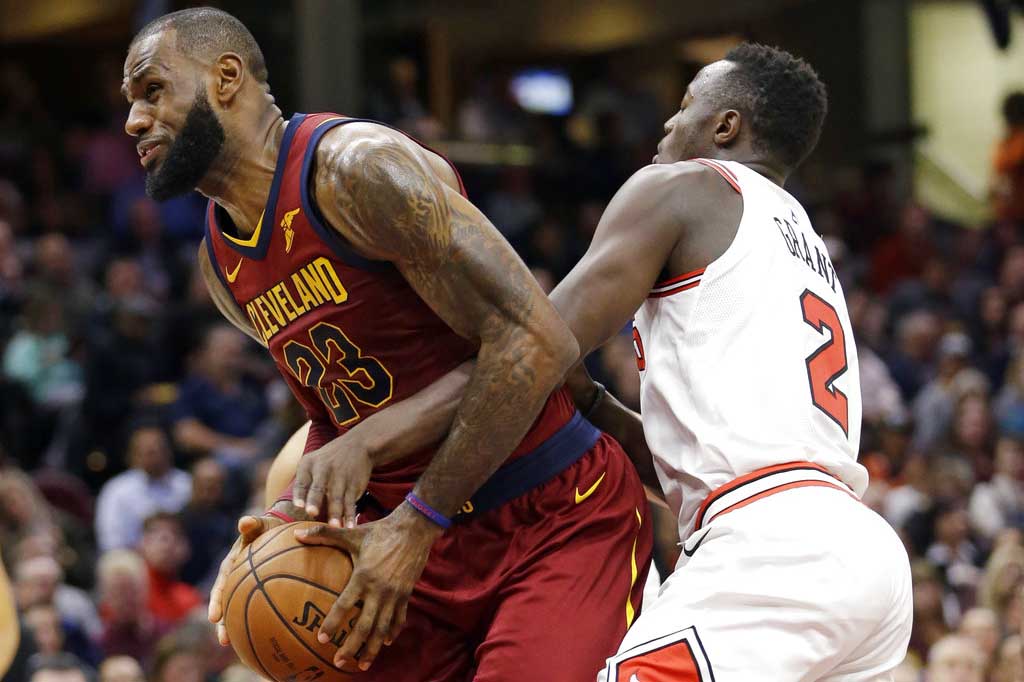 Cleveland Cavaliers' LeBron James, left, is fouled by Chicago Bulls' Jerian Grant in the first half of an NBA basketball game, Tuesday, Oct. 24, 2017, in Cleveland. | AP Photo/Tony Dejak
LeBron reiterates he can play all positions after doing point guard duties for Cavs
(philstar.com) - October 25, 2017 - 7:59am
MANILA, Philippines — Heavy is the head that wears the crown.
It was a rare sight, but LeBron James played the point guard position when the Cavs faced the Bulls.
And he did a decent job at it.
The King later said he has the ability to do all of the positions, something he developed growing up.
"When I started playing ball, for some odd reason, I could learn every single position on the floor all at one time. The point guard, shooting guard, small forward, power forward and center," James said.
"I know every single play in every single position, so it makes the job a lot easier for me, because I know where I should be and what my teammates should do," he added.
It is not yet clear if James will continue as their guard as Isaiah Thomas is still recovering from a hip injury while Derrick Rose sustained an ankle injury.
Interestingly, James is also nursing an ankle injury and admitted he is not yet 100 percent.
But his 13 assists and 34 points in their 119-112 victory speak a lot of his talent.