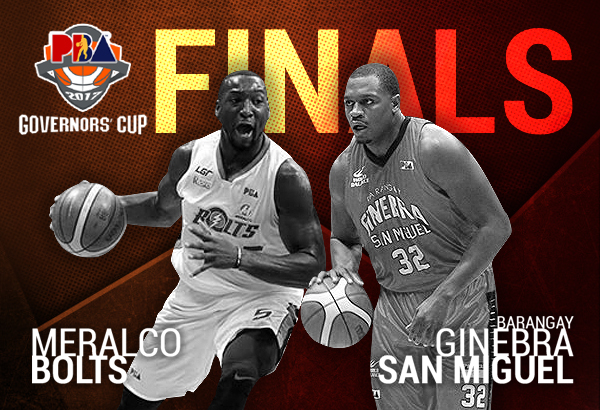 Gin Kings go for kill, title repeat
Game 1: Ginebra 102, Meralco 87
Game 2: Ginebra 86, Meralco 76
Game 3: Meralco 94, Ginebra 81
Game 4: Meralco 85, Ginebra 83
Game 5: Ginebra 85, Meralco 74
NOTES: Free bus rides on a first-come-first-served basis will be provided starting at 2 p.m. in the Jam Cubao terminal. There will be no more free bus service in the Buendia terminal.
MANILA, Philippines – Barangay Ginebra exudes confidence it can write history with a first title repeat for the franchise as the Kings go for the jugular versus the Meralco Bolts in Game Six of their PBA Governors Cup best-of-seven title rematch at the Philippine Arena.
"We know we'll have to scratch and claw to close this in six (games). I believe we're up for the challenge," said Ginebra coach Tim Cone on the eve of the 7 p.m. match Wednesday.
"We're gonna be fired up. We'll be ready," said Justin Brownlee, determined to lead the Kings to a repeat of their conquest of Allen Durham and the Bolts in the finals of the same tourney last year.
A title repeat is not so rare in the local pro league, but it's a feat Ginebra hasn't achieved from its Anejo days under coach Robert Jaworski in the 80s.
The Kings chase history before an expected bigger crowd than the record 36,445 fans that filled the huge Bocaue, Bulacan dome in Game Five Sunday.
The Bolts, however, vow to go all out to foil the Kings' bid and preserve their own title aspiration.
Game Seven, if necessary, will also be at the Philippine Arena on Friday.
"We'll do what it takes to win. We understand it's a do-or-die for us. We understand the situation," said Meralco coach Norman Black.
Admitting the Kings came out the more prepared team the last time, Black said that surely won't be the case in Game Six.
"We have to be a little more aggressive next game. We can't let them hit us first like they did in Game Five," said Black.
The Meralco bench chieftain hopes to draw some more from Allen Durham's backups most especially from their backcourt duo of Baser Amer and Chris Newsome.
At the frontcourt, Cone figured out a winning move Wednesday in letting Greg Slaughter to start and play extended minutes. The 7-foot-1 behemoth responded in churning out double-double numbers with 17 points and 16 rebounds that went with six blocks.
"Greg made statement right off the bat. He's tough in getting the rebounds. He sealed and got physical on Durham," said Cone.
"They started Greg, and they're a lot bigger. I didn't think we reacted very well to it," said Black.
Slaughter is expected to remain a focal point in Ginebra's game with Sol Mercado, a key figure in Ginebra's attacking game, still doubtful with a sprained ankle.
The Fil-Am giant braces for another tough showdown with the prolific Meralco import even as he insists it's still anybody's game and anybody's series.
"Whoever comes out hungrier Wednesday would get the game," he said.
Cone anticipates another grind-out battle.
"Meralco has shown their ability to bounce back earlier in the series and we expect to see that in Game Six," he said.
After Ginebra's 2-0 start, Meralco took Game Three at 94-81 then Game Four at 85-83 before the Kings claimed Game Five, 85-74, for the pivotal 3-2 series lead.