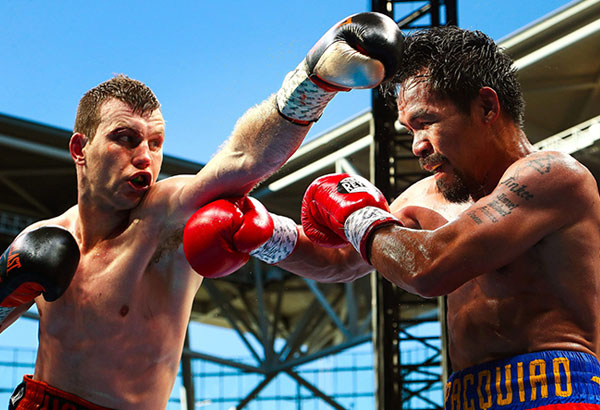 The camp of Jeff Horn still wants to bring Manny Pacquiao back Brisbane, Australia for a rematch. | File photo
Horn camp still wants Pacquiao rematch — in Brisbane
MANILA, Philippines – WBO welterweight champion Jeff Horn on Monday announced his first title defense against relatively unknown British fighter Gary Corcoran.
But that bout — scheduled for December 13 in Brisbane, Australia — is obviously an intermission for a bigger, unfinished business for the 29-year-old Australian: a rematch with Manny Pacquiao.
Horn is expected to dispatch Corcoran, after which his camp will again start pursuing another fight with Pacquiao, who a few months ago lost the title to Horn at the Suncorp Stadium in Brisbane.
Again, Horn's camp said the rematch can only happen in Brisbane and nowhere else.
Dean Lonergan of Duco Events, which promotes Horn, said they are hoping they will get Pacquiao to agree returning to Brisbane again.
"The only problem we do have is our good friend Mr. Pacquiao, who is never as easy we would like him to be," Lonergan said in an AAP report.
Talks to arrange Pacquiao-Horn 2 fizzled out after the Filipino icon's repeated insistence to hold the bout in the Philippines. Contractually, if Pacquiao decides to exercise his rematch clause against Horn, the fight has to be staged again in Brisbane.
Instead, Pacquiao will likely meet Horn early next year. And with the bout not happening anytime soon, Horn decided to go for Corcoran in an effort to stay busy.
But the Australian banger's eyes remain focused on the bigger prize: a chance to defeat Pacquiao more convincingly.
"We will work with him [Pacquiao's camp] for the next few months to get that fight down here," added Lonergan.