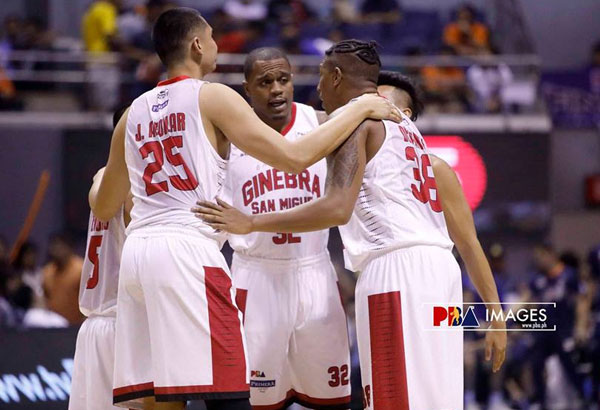 The Barangay Ginebra Gin Kings huddle during Game 4 of the PBA Governors' Cup Finals last Friday. | PBA Images
Gin Kings to finish series in Game 6 again?
Game Wednesday (Philippine Arena)
7 p.m. – Meralco vs Ginebra
MANILA, Philippines – Déjà vu?
Barangay Ginebra import Justin Brownlee sees their team to be a fired-up bunch come game time Wednesday, raring to finish off Meralco over the same distance they wrapped up their championship showdown last year.
The Gin Kings snared the PBA Governors Cup crown over the Bolts last season on a lethal trey by Brownlee at the buzzer in Game Six.
"We're gonna be fired-up. We'll be ready," said Brownlee after helping Ginebra to an 85-74 win Sunday that gave them two cracks at closing out the title rematch.
Brownlee and his teammates hope to end it right in the next game at 7 p.m. Wednesday at the Philippine Arena. Game Seven, if necessary, will also be in the mammoth Bocaue, Bulacan dome Friday.
Brownlee said they would do their best to deliver the kill tomorrow to accomplish their mission of handing Ginebra a first title repeat in franchise history.
An inspiration for the Kings is a much bigger crowd rocking, rolling and rollicking for the team at the Philippine Arena.
"It's amazing. I haven't played in any arena as big as this one and it just looks amazing coming out and see the crowd very excited," said Brownlee. "It's truly a blessing to be here and play before the fans."
"It's an awesome audience. And we look forward for the next one," said Greg Slaughter, raving at the record crowd of 36,445 in Game Five.
Ginebra coach Tim Cone said they also took advantage of their familiarity with the atmosphere and surrounding in the venue where they had played twice before.
"I think we took advantage of the fact that the rims and everything, the surrounding were unfamiliar. It's hard to shoot when things are unfamiliar," said Cone.
"Ginebra played at the Philippine Arena before so they know pretty much how it would feel playing (there). We'd never played in the Philippine Arena before so it's new for us. But that's no excuse. We're professionals and we're assigned to play in this gym so we've to be at our best," said Meralco coach Norman Black for their part.
Black said they know very well their situation in the next game.
"We'll do what it takes to win. We understand the next game is do-or-die for us. We understand the situation," Black said.
The Meralco bench chieftain said it would help if they get some more from their key backcourt players Baser Amer and Chris Newsome who are struggling in the series versus LA Tenorio and Brownlee.
The Kings became a lot tougher Sunday when Cone started Slaughter in place of Japeth Aguilar then played him extended minutes.
"They started Greg, and they're a lot bigger. I didn't think we reacted very well to it," said Black.
"They played very well. Their defense was pretty solid and we got a little frustrated because of foul trouble. But we'll be ready Wednesday," Black added.