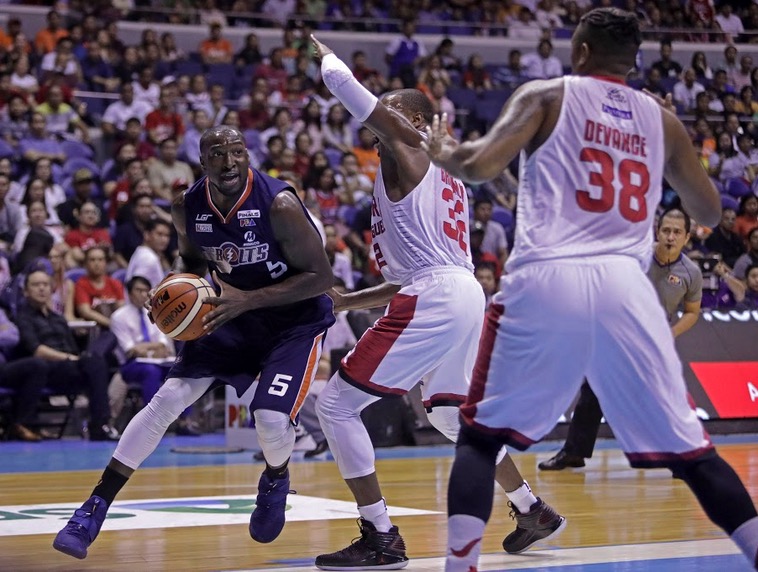 Meralco Bolts' Allen Durham during Game 4 of the PBA Governors' Cup Finals at the Smart Araneta Coliseum on Friday. | PBA Images
Bolts escape Gin Kings, equalize series 2-2
MANILA, Philippines — Allen Durham and Reynel Hugnatan teamed up anew to help Meralco survive a pesky Ginebra side, 85-83, and level the playing field at two wins apiece in Friday night's PBA Finals clash at the Big Dome.

With their backs against the wall, Baser Amer drilled a triple to give Meralco the lead, 83-81, with a minute and 50 ticks left on the clock. Kings' import Justin Brownlee hit two freebies to tie it before Hugnatan and Durham figured in a sneaky play in the paint.

Looking for a good, clear shot, the Bolts were swinging the leather in a hurry. Hugnatan took a dribble and drove from the top of the key, feigning to shoot it, only to drop it to the two-time Best Import for an undergoal stab.

The Kings had a chance to tie the game or even pull the rug on their foes in the next sequence, but they simply couldn't get a shot to fall.

"It was a fiercely fought game between the teams, somehting that we've seen the last couple of years. It was a game we had to win," Meralco mentor Norman Black said.

"Big win for our program, big win in the series to comeback and tie them after bieng down 2-0 is a morale booster for us," he added.

Durham scored 22 in the second half to make up for a lethargic first two quarters. Chris Newsome finally got to arrest his shooting slump as he tallied 18 to go with Hugnatan's 14.

In a bid to channel last year's Game Four victory, Ginebra head coach Tim Cone inserted their famed and aging backcourt duo in Jayjay Helterbrand and Mark Caguioa. They combined for nine points.

Brownlee again paced his team with 34 points and Joe Devance added 15. But they simply couldn't complete a furious run that dug them out of a 13-point hole.

Curiously, the Kings still had a timeout as the game wound down. But there was none called from their camp until the final buzzer sounded.

Game Five of the Governors' Cup Finals will be on Sunday in Bocaue, Bulacan at the Philippine Arena.

"Coming out fresh in the fifth game is very important," Black noted.

The Scores:

MERALCO 85 - Durham 28, Newsome 18, Hugnatan 14, Amer 11, Hodge 7, Dillinger 2, Caram 2, Faundo 2, Lanete 1, Tolomia 0.

GINEBRA 83 - Brownlee 34, Devance 15, Caguioa 8, Aguilar 7, Slaughter 6, Cruz 4, Thompson 4, Ferrer 3, Helterbrand 2, Tenorio 0, Mercado 0.