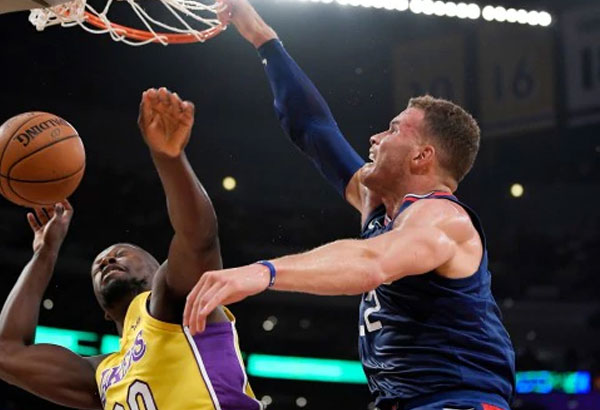 Los Angeles Clippers forward Blake Griffin, right, dunks on Los Angeles Lakers forward Julius Randle during the first half of an NBA basketball game, Thursday, Oct. 19, 2017, in Los Angeles. | AP Photo/Mark J. Terrill
Griffin scores 29 as Clippers rout Lakers; Lonzo Ball deflated
LOS ANGELES — Blake Griffin scored 29 points, DeAndre Jordan added 14 points and 24 rebounds, and the Los Angeles Clippers spoiled Lonzo Ball's quiet NBA debut with a 108-92 victory over the Los Angeles Lakers on Thursday night (Friday Manila time).
Lou Williams added 12 points in the Clippers' first game since Chris Paul spurned the perennial playoff team after six years and forced an offseason trade to Houston. The Clippers will have a new look this season, but they were still miles ahead of their Staples Center co-tenants in both teams' season openers.
Ball had three points, four assists and nine rebounds in 29 minutes during the first game for the No. 2 overall pick from UCLA.
The Los Angeles-area native is expected to revitalize his hometown team this season, but the rookie started out with all the nerves and mistakes that might be expected from any 19-year-old point guard with the weight of a 16-time NBA champion franchise on his slender shoulders. Along with a handful of good-looking passes and a 3-pointer late in the first half, he went 1 for 6 from the field and committed two turnovers.
Brook Lopez scored 20 points in his debut for the Lakers, and Jordan Clarkson added 18.
Patrick Beverley, acquired in Paul's trade to the Rockets, had 10 points in his Clippers debut while introducing Ball to high-level NBA defense.
Milos Teodosic, the other starting guard in coach Doc Rivers' revamped lineup, hit two 3-pointers in the 30-year-old Serbian rookie's NBA debut.
The Lakers' opening-night starting lineup never played together during the preseason thanks to injuries, and it didn't immediately click. The Clippers took the lead for good in the third quarter and steadily surged to a 24-point advantage in the third with Griffin and Jordan dominating inside, albeit without most of the Lob City theatrics added by Paul in recent years.
Tip-ins
Clippers: Danilo Gallinari had 11 points in his LA debut. ... Rivers answered back at Paul, who said he didn't like the Clippers' team culture in a documentary that will be released this week by ESPN. "Listen, when you leave, you should just leave," Rivers said. "I don't think you have to try to burn the house down or justify why you left. That's what I would say to it. I like our culture.
Lakers: New G Kentavious Caldwell-Pope missed this game while beginning a two-game suspension for getting arrested in March and later pleading guilty to operating a motor vehicle while intoxicated. ... Kyle Kuzma, the Lakers' other first-round pick, had eight points in his NBA debut. ... Andrew Bogut, the former Golden State center, had three fouls and three turnovers in his Lakers debut.
Magic Ball
It was a busy night for Lakers executive Magic Johnson, also a co-owner of the Los Angeles Dodgers. Magic watched from the tunnel while Staples Center showed Game 5 of the NL Championship Series on the scoreboard during pregame warmups, and he celebrated behind the scenes when the Dodgers clinched their first World Series berth since 1988 during the first half. "I'm just happy for all the players and all the Dodger fans across the world," Johnson said. "This is a moment that I'll never forget. I was torn, because I wanted to be here for Lonzo Ball's first game as a Laker, but my heart is in Chicago. ... I'm so happy with Clayton Kershaw, that he can finally pitch in the World Series. He deserves this moment, and all our players deserve this moment, too." Staples Center erupted in cheers when the Dodgers recorded the final out in Chicago, and again when the final out appeared on the video board.