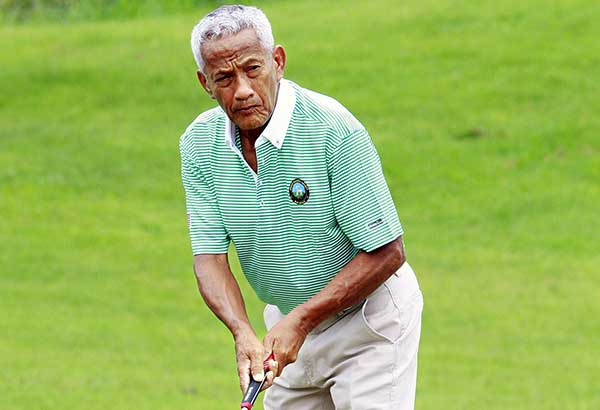 Idris Ngah. JOVEN CAGANDE
Malaysians hike lead over Pinoys
Olmin Leyba
(The Philippine Star) - October 19, 2017 - 4:00pm
34th Asean Senior Am
GENERAL TRIAS, Philippines —The famous Filipino fighting spirit will be put to a test in 34th Asean Senior Amateur Golf Championships as the Philippines tries to overcome a massive threat from Malaysia in its bid to retain the centerpiece Stroke Play Team Gross crown.
Failing to make their move against overnight leader Malaysia in yesterday's Round 2, the Filipinos found themselves pressed to wipe out a three-shot deficit in today's final reckoning at the Eagle Ridge Golf and Country Club to reclaim the diadem.
"The game is not over," said Phl team captain Vidal Querol, who expects the foursome of Rodel Mangulabnan, Eduardo Sison, Edgar Quiao and Eddy Jose Manzanares to rise to the occasion and save Phl's quest.
"It's make or break for us but we have a very good chance we'll overcome the three-stroke lead of Malaysia," added Querol as he expressed confidence the home team can get the job done in the centerpiece division of the tournament hosted by the Federation of Philippine Amateur Senior Golfers, Inc. headed by Melito Salazar Jr.
Although the Filipinos improved to 237 at the Norman course after an opening 238 over at Aoki, their 475 tally still not enough to uproot the Malaysians (472) from the No. 1 spot.
Idris Ngah followed up his 71 with a 76 yesterday to help Malaysia gain one more shot versus Phl. Dato Dzaamoddin Salleh matched Ngah's second-round card while Goh Chan Tau chipped in an 84.
After a woeful 85 opening, Sison improved to 77, a birdie-less round that could have been better if not for back-to-back double-bogeys at 10 and 11, to lead Phl. Mangulabnan, the top scorer with 76 on Day One, limped with a 79 marred by a quintuple bogey on No. 3 where he drove out-of-bounds twice.
"It was a short hole and I paid for being too aggressive and went out-of-bounds twice. I should have finished one- or two-over," rued Mangulabnan, who vowed to bounce back strong today. "I'll be on attack mode and go for broke since the Philippines is three-down."
Quiao was the third scorer for the Phl with 81 while Manzanares didn't count anew with 82.
Retired Gen. Don Montenegro, meanwhile, produced the brightest performance among the Filipinos with a one-under 71. This allowed him to vault into No. 2 in the Stroke Play Individual Gross title race, just one shot off Ngah's leading 147.
Montenegro, who had an opening 77, gunned down four birdies to offset three bogeys en route to the day's best round.
Backing the event are Pagcor, Life Oil Pure Malunggay Oil Extract, Gardenia, R.d. Interior Junior Construction General Engineering and General Building, Genetron International Marketing, Philippine Navy Golf Seniors, Federation of Philippine Amateur Senior Golfers, Inc. (FPASGI), Senior Golfers of Veterans, Inc., RCBC, Pradera Verde Golf and Country Club Seniors, Club Intramuros Senior Golfers Association and Capitol Senior Golfers, Inc.