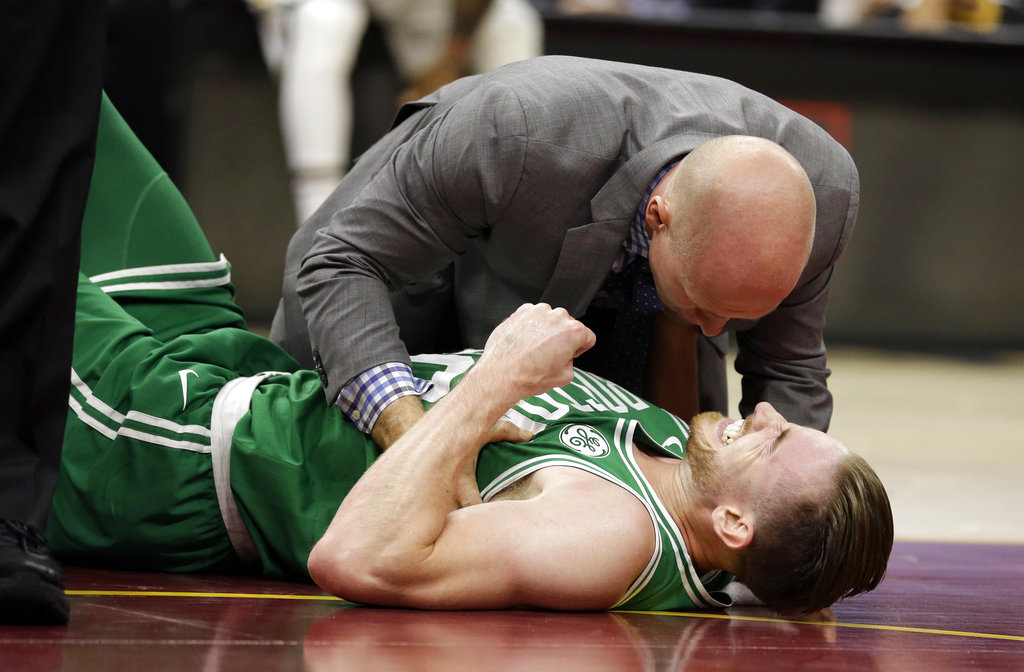 Boston Celtics' Gordon Hayward grimaces in pain in the first half of an NBA basketball game against the Cleveland Cavaliers, Tuesday, Oct. 17, 2017, in Cleveland. Just five minutes into his Boston career, new Celtics star forward Gordon Hayward gruesomely broke his left ankle, an injury that may end his season. | AP Photo/Tony Dejak
NBA players tweet messages of support for Celtics' Gordon Hayward
(philstar.com) - October 18, 2017 - 4:13am
MANILA, Philippines — Gordon Hayward's hyped debut for the Boston Celtics came to an abrupt end.
Barely five minutes into the Celtics' opening game against the Cleveland Cavaliers, Hayward landed awkwardly on Lebron James' foot and went down on the floor.
He looked in horror as his ankle looked completely broken.
The Boston Celtics announced that Hayward suffered a fractured left ankle. It is unclear if he is done for the season.
Several NBA players took to Twitter to express their support for the 27-year-old forward.
@gordonhayward want you to know you are a #Celtic & you are not alone, we #bleedgreentogether

— TheBillRussell (@RealBillRussell) October 18, 2017
Gotta send a prayer up for @gordonhayward .. speedy recovery brother

— Josh Richardson (@J_Rich1) October 18, 2017
My thoughts are with you @gordonhayward

— Steven Adams (@RealStevenAdams) October 18, 2017
Hate to see @gordonhayward go down like that. I know he will be back stronger and wish him the best recovery possible.

— Rudy Gobert (@rudygobert27) October 18, 2017
October 18, 2017
Pray For @gordonhayward. Come back stronger!

— Stephen Curry (@StephenCurry30) October 18, 2017
Never want to see that happen to anyone... thoughts and prayers out to @gordonhayward

— Tyus Jones (@1Tyus) October 18, 2017
The Celtics' late run was not enough as they lost to the Cavs 99-102.