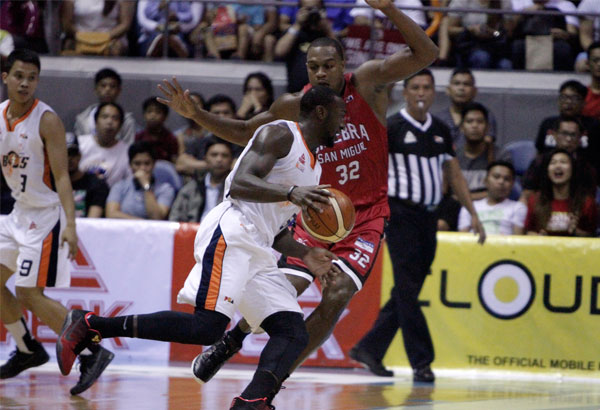 Justin Brownlee of Barangay Ginebra defends a driving Allen Durham of Meralco | PBA Images File Photo
Ginebra's Brownlee wary of Meralco comeback
MANILA, Philippines — The Barangay Ginebra Gin Kings are halfway getting the job done. But they're not really putting much thought into it.
With a 2-0 series lead over the Meralco Bolts in the PBA Governors' Cup finals, Justin Brownlee said they're not satisfied. Yet.
"We know what type of Meralco is. We know they're gonna keep fighting, they're not gonna give up," he said.
In their meeting last year, the two teams were tied going into Game Three. Meralco won the third tussle but lost the next three — and eventually, the title.
But the returning American import, who shot the title-clinching shot, knows that this season is a totally different one. And that goes for the scenarios, too.
While they have won two, straight, the soft-spoken forward said the Bolts also have the grit identical to the Kings' beloved mantra.
"Like the same mentality on 'Never Say Die,'" he shared. "You know, those guys, they're the same way. We know it's not over yet. Still it's gonna be along series. We're just looking to come out and to try to fight every game."
Asked about his team's approach to tonight's game at the Big Dome, Brownlee said they're taking a page off their come-from-behind victory last Sunday.

"I think the whole team did a good job keeping our composure, being patient. In the end, we just finished strong. That's been the key," he offered.
"Hopefully we can continue winning games," the reinforcement closed.
Game Three tips off 7 p.m.