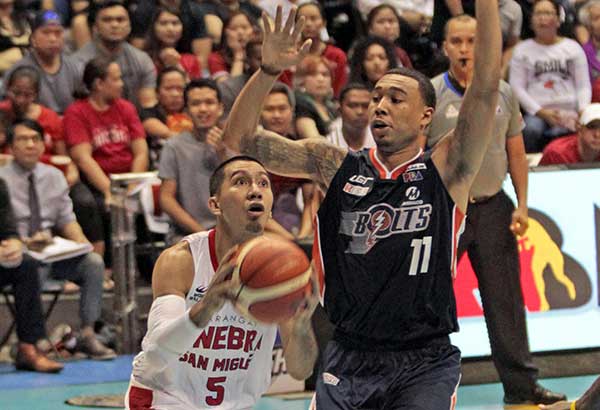 "We know it's a challenge to beat Ginebra but we'll keep going, we'll keep fighting. We'll grind it out, play hard and focus," Meralco team manager Paolo Trillo said. File
Meralco vows to keep fighting
MANILA, Philippines — Meralco's down, 0-2, in the PBA Governors Cup Finals but until Barangay Ginebra wins four games, the Bolts are still in the thick of the best-of-7 title series. Game 3 is set at the Smart Araneta Coliseum tonight with Meralco in a virtual must-win situation because another Ginebra victory will open up a 3-0 advantage that's nearly impossible to overcome.
Before the Finals started, Meralco team manager Paolo Trillo said he expected a long series because both teams want to win the title badly. "We've never won a championship so we're hungry," he said. "We've learned from our experience with Ginebra in the last Governors Cup Finals. We were up, 2-1, but Ginebra came back to clinch. We'll keep fighting no matter what. Every game is different in the series because of the adjustments, tactics and schemes. We know it's a challenge to beat Ginebra but we'll keep going, we'll keep fighting. We'll grind it out, play hard and focus."
If there's anyone who's extremely motivated to win, it's Meralco import Allen Durham. "All year long, that was the only thing on his mind, to get back to the Finals and win the championship," said Trillo. "Last season, he played a lot of minutes, about 42 a game. This conference, he's playing three or four minutes less. He's more careful in taking care of his body. Coach Norman (Black) is managing his minutes. AD does a lot of stretching, hot and cold compress before and after a game. AD's the same hard-working guy who took us to the Finals last season but he's more vocal now, on and off the court. He's familiar with all of us, he knows coach Norman's system so that's an advantage."
Trillo hesitated to reveal that Durham strained his right calf muscle in Game 4 of the previous Governors Cup Finals. In a sporting gesture, he didn't want to disclose the injury because it would take away the luster of Ginebra's victory. Besides, Trillo said it may be misinterpreted as an excuse. But Durham himself admitted the injury in a TV interview before the Finals started so the cat's out of the bag.
When Durham hurt his calf, Meralco was up, 2-1, in the series and the Bolts led by 16 at 74-58 entering the fourth period of Game 4. If the Bolts won, they would've zoomed to a 3-1 advantage. But Ginebra hung on to win, 88-86. It was downhill for Meralco from then. Durham took painkillers to no avail. He lost his explosiveness, quickness and his ability to elevate on second and third jumps. Ginebra's Sol Mercado was matched up against Durham in Games 5 and 6. With his quickness gone, Durham couldn't play like he wanted to. Ginebra eventually clinched in Game 6.
"JD (Jared Dillinger), RDO (Ranidel de Ocampo), Mike (Tolomia) and Garvo (Lanete) weren't with us in the last Finals but now, they give us lots of options," said Trillo. "They space the floor for AD to operate inside. Because of our defensive orientation, we'd rather play a low-scoring game but we've shown the ability to win even if it's high-scoring. It really depends on the adjustments of both coaches. I think we're more versatile than Ginebra."
Meralco guard Baser Amer said it was tough to reach the Finals and the Bolts won't waste the opportunity to make the most of it. "I've prepared as much as I could because matching up with Kuya LA (Tenorio) is really hard," he said. "But with the help of my coaches (Black and assistants Ronnie Magsanoc and Xavy Nunag), I hope to execute their scouting reports."
Amer said De Ocampo's addition is a big factor because "he's a proven winner and he knows how to win in this kind of games so his input and talent are essential in the Finals." He said what he learned from last year's title series was invaluable. "You have to prepare for everything," he said. "You can't take anything for granted. You must make sure you're mentally and physically ready for the crowd and Ginebra. I hope this time, we come out on top."