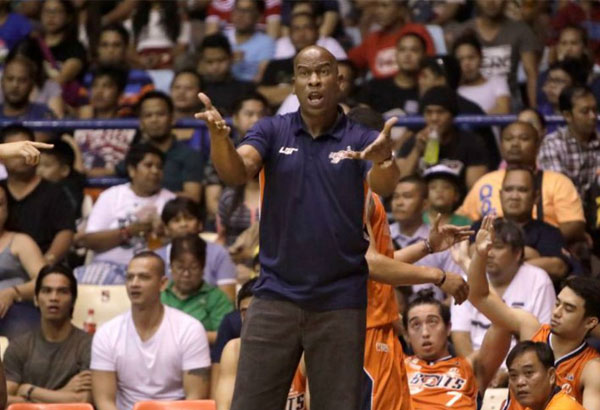 Meralco Bolts head coach Norman Black | PBA Images
Black, Bolts look at SMB for inspiration
Game Wednesday
(Smart Araneta Coliseum)
7 p.m. – Ginebra vs Meralco
MANILA, Philippines – The Meralco Bolts are taking a look at the miracle run by San Miguel Beer in the recent past as they search for an inspiration to fuel a comeback drive from 2-0 down versus the Barangay Ginebra Kings in their PBA Governors Cup best-of-seven title series.
"We know what it's like to be 2-0 down. Most of the teams that were down 2-0 were not able to bounce back and win the championships," said Meralco coach Norman Black.
"But there were instances when teams were down 3-0 and came back and won. San Miguel did it recently over Alaska. So it's possible," Black added.
Actually, San Miguel is the lone team that has done the epic feat of fighting back from 3-0 down in a PBA best-of-seven playoff series. The Beermen pulled off the trick versus the Aces in the 2016 Philippine Cup finals.
Meralco, the playoffs top seed, has found itself in a 2-0 hole after a shattering 87-102 loss in Game One followed by an endgame meltdown leading to a painful 76-86 defeat in Game Two on Sunday.
"We're still alive," Black was quick to stress, though, in the post-game interview.
"Until they won four games, we'll be out there fighting," said Black, remaining hopeful they can salvage the series and foil Ginebra's back-to-back title bid.
Ginebra coach Tim Cone acknowledges Meralco is still very much in contention, with the Bolts "still having a lot of punches to throw at us."
And Cone says the two-day break makes Game Three entirely different from the previous games.
"Game Two was a real trying game because of the out-of-town game that we had 48 hours ago. We didn't get back to Manila until 3 o'clock in the morning. It's really a trying weekend of us and for them as well. It looked like in the end, we had a little bit more than they did," said Cone.
"But now they've got two days to refresh, and I think that extra day in the championship is valuable. It allows us to discontinue playing back-to-back-to-back-to-back. A day means a lot. Monday is big for both teams, and it's bigger for them," Cone added.
But for Black, it's about making the shots — something that they weren't able to do in the crunch Sunday night.
"No question, our locals need to step up a little bit to support Allen (Durham) and make their shots. That's really the problem right now. Ranidel (de Ocampo) is not making his shots, JD (Jared Dillinger) is not making his treys and so we're not getting the spacing that we need around Allen for us to be successful," Black pointed out.
Black gives credit to Ginebra.
"I'm sure my players are trying their best, giving their best. But they're not performing right now at a level they performed in the elimination round. I could imagine Ginebra had a lot to do with that," said Black.
"They're playing a very good basketball," added Black of the Gin Kings.
Black, however, stresses that they will fight until they're alive to fight.