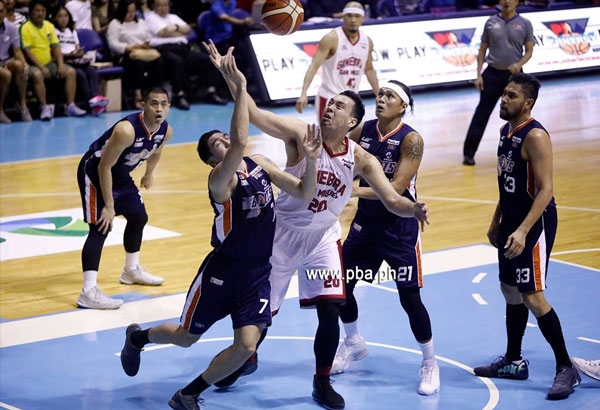 Greg Slaughter of Ginebra battles for the loose ball with Meralco's Cliff Hodge in Game 2 of their PBA Governors' Cup title series Sunday. | PBA Images
Commentary: Meralco needs to raise their game to recover vs Ginebra
(philstar.com) - October 16, 2017 - 3:26am
MANILA, Philippines – The Barangay Ginebra Gin Kings seized a 2-0 lead over the Meralco Bolts in the PBA Governors' Cup Finals with an 86-76 Game Two win Sunday at the Smart Araneta Coliseum.
At times, Meralco led and beat back repeated comeback tries by Ginebra, but they faltered in the endgame as they were unable to withstand the withering attacks of the defending champions.
Before the start of the finals, I felt that the odds were stacked up against the Bolts. I felt they didn't have the bigs to match up with Ginebra.
At any given time, Ginebra can field three of their four tall players who can all hurt you in different ways — there's the Best Player of the Conference Greg Slaughter, Japeth Aguilar, Justin Brownlee, whose athleticism and energy will surely give Meralco fits, and Joe Devance.
Meralco can only counter with Allen Durham. Even if Kelly Nabong were around, they would still have it tough.
I felt that for the Bolts to have a chance of upending Ginebra, they need to run, attack them inside and shoot well from 3-point range.
Let's look at those three points:
***
Game 1 fast breaks points
Ginebra 19
Meralco 10
Game 1 points in the paint
Ginebra 54
Meralco 44
Game 1 3-point shots
Ginebra 7-of-18 (39 percent)
Meralco 8-of-34 (24 percent)
Game 2 fast breaks points
Ginebra 8
Meralco 19
Game 2 points in the paint
Ginebra 48
Meralco 32
Game 2 3-point shots
Ginebra 5-of-18 (28 percent)
Meralco 5-of-23 (22 percent)
As for the four-headed monster of Ginebra versus Durham, this is how it has played out:
Game 1
Ginebra
Greg Slaughter: 14 points, 8 rebounds, 2 blocks
Japeth Aguilar: 15 points, 4 rebounds, 3 blocked shots
Justin Brownlee: 32 points, 19 rebounds, 5 assists
Joe Devance: 9 points, 5 rebounds, 2 assists
Meralco
Allen Durham: 27 points and 14 rebounds
Cliff Hodge: 8 points 5 rebounds
Game 2
Ginebra
Greg Slaughter: 3 points, 6 rebounds, 3 blocks
Japeth Aguilar: 16 points, 8 rebounds, 1 block
Justin Brownlee: 19 points and 13 rebounds
Joe Devance: 10 points and 5 rebounds
Meralco
Allen Durham: 25 points, 22 rebounds, 7 assists
Ranidel De Ocampo: 10 points and 12 rebounds
***
Now the Bolts are in a 0-2 hole. Can they still come back? Of course, they can… but they will need to do more than defeat Ginebra in those points I mentioned. Meralco needs its locals to step up. They have virtually disappeared in this series, leaving Durham, De Ocampo and Baser Amer to wage a lonely war.
In my opinion, if the others aren't playing well, maybe it's time to go to the bench? This is where you try and throw everyone at Ginebra and try to get something out of Joseph Yeo (who I am plenty sure can still play and score). Was Mike Tolomia forgotten? With Hodge ineffective, maybe Bryan Faundo can help some?
The Bolts need to come out and play the perfect game and to have all hands on deck if they want to make a series of this. If not, Ginebra will be staring at a sweep, and Meralco's unfinished business will take another season of stewing and planning. And definitely, reloading.