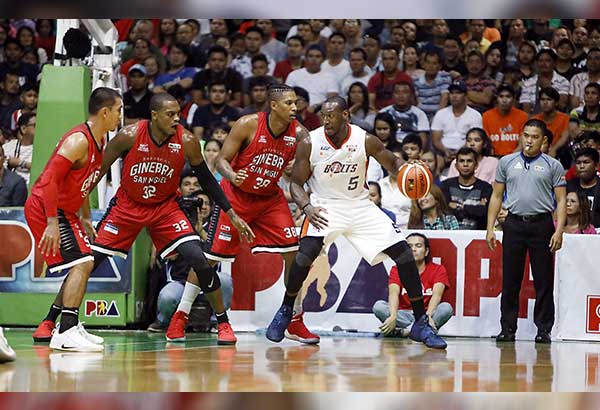 Meralco Bolts' Allen Durham prepares to crash into a phalanx of Ginebra defenders – LA Tenorio, Justine Brownlee and Joe Devance – in Game 1 at the Quezon Convention Center in Lucena City. PBA IMAGE
Kings: Bolts hard nut to crack in Game Two
Game today (Smart Araneta Coliseum)
6:30 p.m. – Meralco vs Ginebra
MANILA, Philippines — Barangay Ginebra sees an uphill battle against the real Meralco team tonight, and hopes to play harder and tougher than the last time, believing it would take them a lot of guts and tough luck to make it two in a row versus the conference's most dominant team.
"We played a very solid, if unspectacular, Game One, but we know we caught Meralco on a cold shooting night. We also know that how we played in Game One won't be good enough to beat them in Game Two," said Ginebra coach Tim Cone ahead of Game Two of their PBA Governors Cup title showdown with Meralco at 6:30 tonight at the Big Dome.
"There's a reason they dominated this conference and that has been their great and consistent play. We expect to see more of that (tonight)," Cone also said.
The Kings dished out an impeccable game and overpowered the Bolts on both ends of the floor in a dominant 102-87 triumph in the opener of the best-of-seven title series at the Quezon Convention Center in Lucena.
But Cone stresses it was just one game where they caught the Bolts seemingly unprepared.
"You take everything after Game One with a grain of salt. This is not representative of anything as the series goes on," said the Ginebra bench chieftain.
He insists they have to be cautious in the next game.
"The key for us now is to be as fresh as we can. They're gonna have that emotion coming off a loss. We've got to find a way to battle that emotion," Cone said.
Meralco coach Norman Black offered no excuses on their Game One loss, saying: "We got outplayed."
Black says they need to be back on the drawing board as he noted his players deviated from their usual game.
"Uncharacteristically, we took so many three-point shots. I think we took about 35 when we only average 21 a game," said Black.
"We give them credit for the defense at the same time it was a bad shot selection on our part. Going to Game Two, we have to make sure we get good looks at the basket," Black added.
Meralco import Allen Durham rued they were lazy Friday.
"We didn't play our game. And you can't beat a team like Ginebra if you don't shoot the ball well," said Durham.
"We're just gonna try to make the necessary corrections and get ready for Sunday," Durham added.
Justin Brownlee upstaged Durham, with the Ginebra import collecting 32 points, 19 rebounds and six assists against the latter's 27 markers, 14 boards and eight assists.
And things became easier for Ginebra with Greg Slaughter, Japeth Aguilar, LA Tenorio, Kevin Ferrer, Joe Devance, Scottie Thompson and Sol Mercado doing their job.
Slaughter and Aguilar dominated at the post, Ferrer sizzled from the quarter court while Tenorio brilliantly quarterbacked for the team.
Devance played tough defense on Durham while Mercado and Thompson provided help at the backcourt as the Kings turned into a lopsided game what was expected to be a toe-to-toe showdown.
Hitting their shots from afar and on attacks to the baskets, the Kings seized control early and kept the Bolts on the trail to the finish.