Phl tennis gets boost from UTP programs
October 13, 2017 | 4:00pm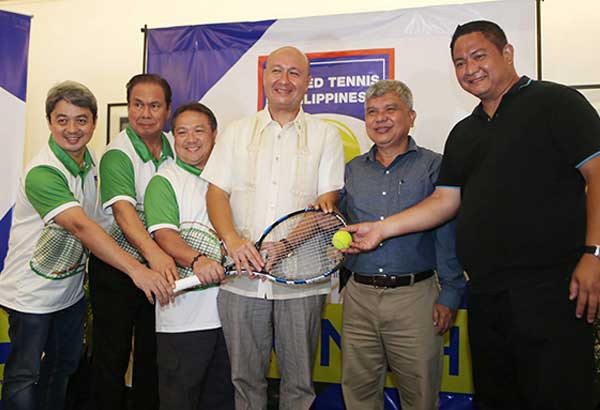 MANILA, Philippines — Local tennis gets a big boost as the Unified Tennis Philippines, an organization founded by long-time patrons and supporters of the sport, launches programs from the grassroots level to elite in hopes of producing world-class players.
A tennis center, professionally supervised clinics nationwide, grassroots programs and training workshops, corporate events, additional tournaments and its own professional tennis league, the Unified Tennis Open, are the plans bared by the UTP in its media launch at the Makati Sports Club Thursday night.
"After years of individual efforts from various sports patrons, today, we have come together and united to launch a highly inclusive organization that will help further promote and improve the quality of our tennis players down from the grassroots and amateurs up to the professional levels and support their plight in the sport of tennis," said co-founder and Palawan Pawnshop president and CEO Bobby Castro.
"We can only promise to work twice as hard to fulfill our vision and bring back the glory days of tennis in our country," added Castro.
Aside from Castro, other founding members are Cebuana Lhuillier president and CEO Jean Henri Lhuillier, Randy Villanueva, Julito Villanueva, Gerard Maronilla, Jackie Tomacruz and senators Sonny Angara and Juan Miguel Zubiri.
Lhuillier emphasized the spirit of volunteerism to help UTP achieve its goals.
"Volunteers happen in many ways. In terms of people that have links to tennis, a lot of our tennis pros abroad today come back to give back to tennis. Alex Marcial and Rod Rafael, they come back and help in training and in giving equipment. People can eventually volunteer in their local barangays and cities. Once we have events and once we get things moving out there, the local OICs will be able to reach out to them and see if they can help support in training, fundraising events, running the tournaments," said Lhuillier.
"Create a world-class organization, get volunteers out there and make Filipinos love tennis. That's our goal."
To promote inclusivity, the UTP tapped 24 OICs across four regions – Metro Manila, Luzon, Visayas and Mindanao.
The sports association hopes to attract 100,000 members in the next two years, according to co-founder Randy Villanueva.
The UTP is recognized by the Philippine Sports Commission.